---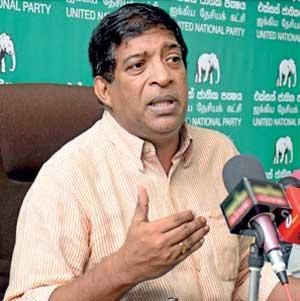 By Yohan Perera
Nearly 25 Samagi Jana Balawegaya (SJB) candidates will withdraw from the election soon, UNP Assistant Leader Ravi Karunanayake said yesterday.

He said this in response to a question asked by journalists on the claim made by SJB that 90 per cent of the UNP organisers have joined the new alliance led by former UNP Deputy Leader Sajith Premadasa.

"We can't help the SJB if they do not realize that it has suffered a stroke," Mr. Karunanayake said and claimed that the SJB and former president Maithripala Sirisena are playing political games.

"We begged those who formed the SJB that we should contest together but they did not listen to us," he said.

When asked whether the SJB is UNP's main contender at the general election, Mr. Karunanayake said its main contender was the SLPP because our plan is to form the next government.
He said providing WIFI and tabs have become a necessasity today in the wake of the COVID-19 pandemic. "We were laughed at when we came up with a proposal to provide tab computers and free WIFI. It was former president Sirisena who stopped the proposal to provide tabs to advanced level students," Mr. Karunanayake said.