---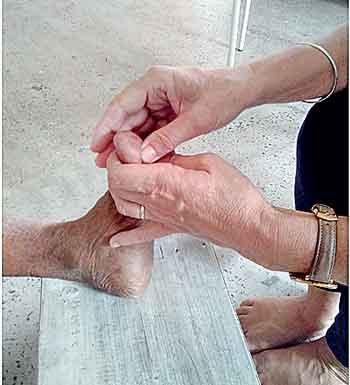 Members of the International Council of Reflexologists (ICR) are bringing the community together through healthy soles. The ICR is working together with its members and other reflexology organizations to coordinate events worldwide to celebrate 'World Reflexology Week' (WRW) and bring awareness for a healthier world. 'WRW' is marked from September 21-27.

As an international organisation ICR is committed to "Keeping Reflexologists Around the World in Touch". This year during WRW ICR will be hosting online presentations in several different languages from September 21-25. There will be a total of 21 presentations by 41 recognized reflexology teachers worldwide conducted in 17 languages; the presentations include one in Sinhala and it will be conducted by Dr. Cyril Antony and his daughter Gayathree Nayanajeehwi.

Dr.Antony is a Director Board Member of the International Council of Reflexologists, practitioner of alternative therapies, member of the Acupuncture Foundation of Sri Lanka and Founder Fellow Member of the FSMA (UK). Nayanajeehwi possesses a diploma in reflexology and a Bachelor of Science (Hons) in Zoology and is a teaching assistant at the Department of Zoology at the Open University of Sri Lanka.

The presentations are conducted free-of-charge and there is no limitation on how many presentations one wishes to watch. The presentations include a 20 minute Question & Answer session.

Joining these presentations allows you to take part in an international event that has been in existence for 21 years and an opportunity to network with other Reflexologists. Further it provides an opportunity to see what ICR is all about and what we have to offer as an organization.

Please select the presentation that you want to attend and email your selection to membership@icr-reflexology.org. Once you have registered via email you will receive the Zoom meeting link. Kindly note that the number of participants per presentation is limited.