---
Mahavidyala Mawatha is a main road which has light and heavy vehicles, containers, particularly Pettah bound buses, passing in hundreds every day. This road also leads to five government schools and is also a hardware commercial hub apart from being densely populated.
The road turns worst compelling vehicles to move by 'steps' as vehicles enter this road from Abdul Jabbar Mawatha (AJM) continuously, except on holidays. It creates a 'traffic block' and it also continues as more vehicles are followed after the 'green light' signal from Armour Street Junction. The traffic branch of the relevant police stations will vouch this fact.
The inconvenience the public undergo is great. Of course, there are a couple of cops only during school hours to cope the situation and actually they too find it to be a difficult task. This has been going on for decades as restriction in the movements of vehicles, especially coming from the Aluthkade areas, are not adjusted accordingly to suit the present situation. Neither the CMC nor the past Traffic Police Chief took any action to resolve this issue.
All vehicles coming, starting from Hulftsdorp use Messenger Street to enter Sumanatissa Mawatha and others enter Mahavidyala Mw to go to Kotahena or Armour Street. It is from these points the bottlenecks begin.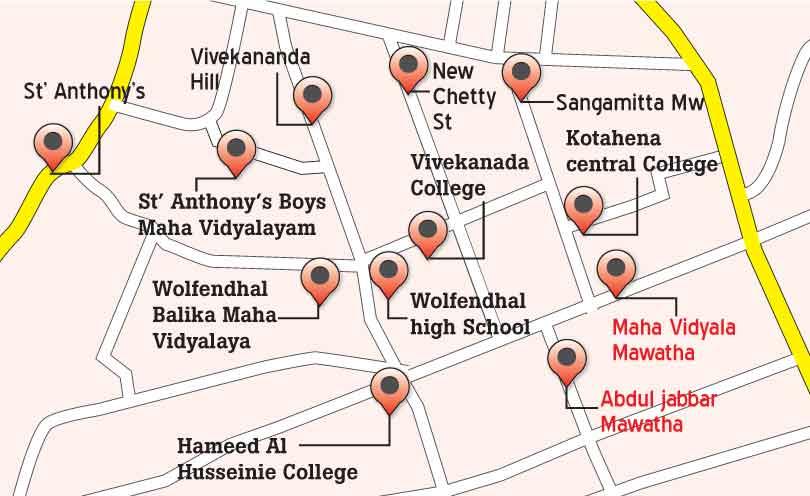 Messenger St. is narrow and is a 2-way road while Old Moor St. (OMS) is wider and is one-way to enter AJM. Most vehicles that need to enter Sumanatissa Mw, or even to proceed to Kotahena, could be sent through OMS making it a 2-way road. By this arrangement, most of the vehicles need not head towards Mahavidyala Mw and increase the volume of vehicles. Messenger St displays one side parking notice and OMS does not have it.
I firmly believe the present Traffic DIG will visit this place, spend some time during noon and evening hours, witness the situation for himself and consider my suggestion to ease the traffic congestion to a certain extent which is compulsory. And also make more adjustments, where possible, that could make vehicles move smoothly.
Another alternative is to stop vehicles entering OMS through Sumanatissa Mw to enter AJM, as they could use Bandaranayake Mw. -- the one-way to enter AJM and then to open OMS for vehicles to reach Sumanatissa Mw. If possible to make OMS a 2-way road as it a wider road than Messenger St which is already a 2-way.
Nazly Cassim
Colombo 13