---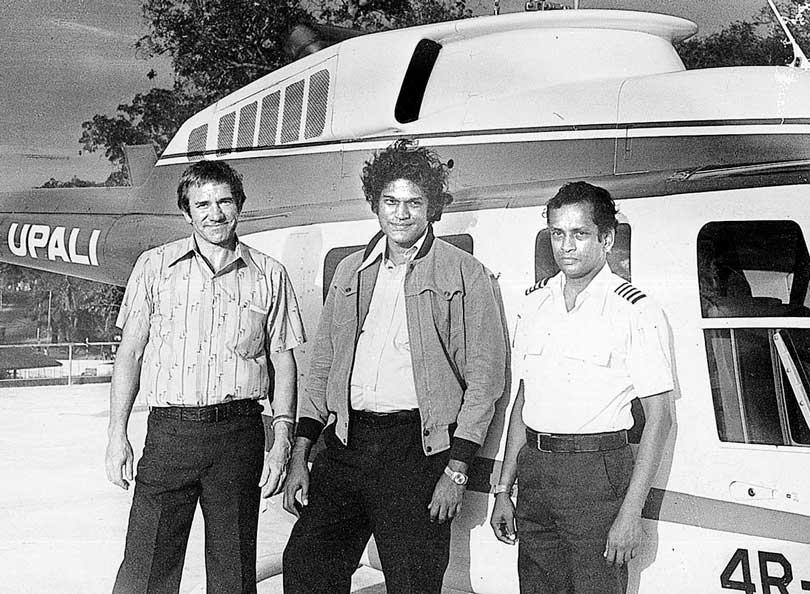 Upali Wijewardene (centre) poses in front of his helicopter

February 13, 1983 became yet another day of national mourning following the sudden disappearance of the Lear Jet Plane of Philip Upali Wijewardene, a unique Sri Lankan Entrepreneur.

Upali, another eminent descendant of the Sedawata Walawwa, was at the Zenith of the national business arena at the time of his untimely death. He was the Chairman / Director General of the Greater Colombo Economic Commission (BOI), a giant venture introduced to initiate the open economy system during the President J R Jayewardene regime. Due to his ingenious business skills popularity wise, he was in vanguard among National Entrepreneurs.

Many people achieve high social status by virtue of the office they hold, while a few others make the official status prestigious, due to their perseverance and efforts. Upali belongs to the latter group.
Having completed his education at Cambridge University, on his return to the motherland, Upali was determined to start his own business. He was associated with the leading marketing firms for a brief period. He lost no time in implementing his own business schemes.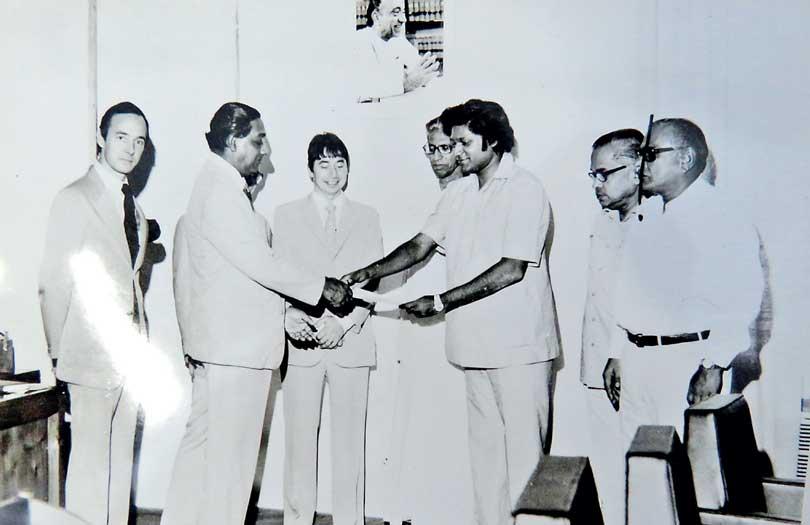 His initial venture was the manufacturing and distribution of Delta Toffees, with an attractive wrapper carrying a trade mark "Chutta & Chutti", which in no time became a household product. In 1965, just after leaving school, I joined the Ceylon Sugar Company, as a Delta Toffees sales representative. To be more frank I was one of the pioneer employees of the Upali Group.

The first time I visited the Ceylon Sugar Company premises at Sedawatta Walawwa, Wellampitiya Road, Kolonnawa, was half a century ago. It was to hand over my application seeking employment. That day, I sat at the table before R M Rajaram, the Manager of the Company and began to fill my form. While doing so, I wrote among my other qualifications that I possessed a motor car driving licence.
Just then, someone who was standing behind me interrupted saying "You don't need to drive vehicles, we provide drivers".

As I looked back to my astonishment I realised that it was the "Boss" Upali Wijewardene with his jubilant laugh.
That day itself, I was recruited to the Ceylon Sugar Company on a monthly salary of Rs.170/- plus Rs.6/- as an overtime payment per day. I was given one weeks training in Colombo under a Senior Sales Representative, S K M Herath.

At the time there were about three clerical hands at the Head Office and Upali advised me not to avoid even a hut or boutique, alongside itinerary and to act regardlessly whether the call was productive or non productive. Thus I was provided a Austin A30 Van and assigned to cover Kandy and Badulla.
Initially I could hardly sell ten Delta packets a day. However I gradually improved my sales up to Rs. 100,000 a month.

We were instructed to mail daily performance reports to the Head Office at Bloemendhal Road, Colombo 13 and promptly appreciation of our work came by return post. On the contrary we could also expect adverse comments for any lapses. During that era the price of a Delta Toffee was five cents.
Upali was the first Sri lankan businessman to offer a UMC Mazda Car for a competition with Delta Wrappers to promote Delta Toffees.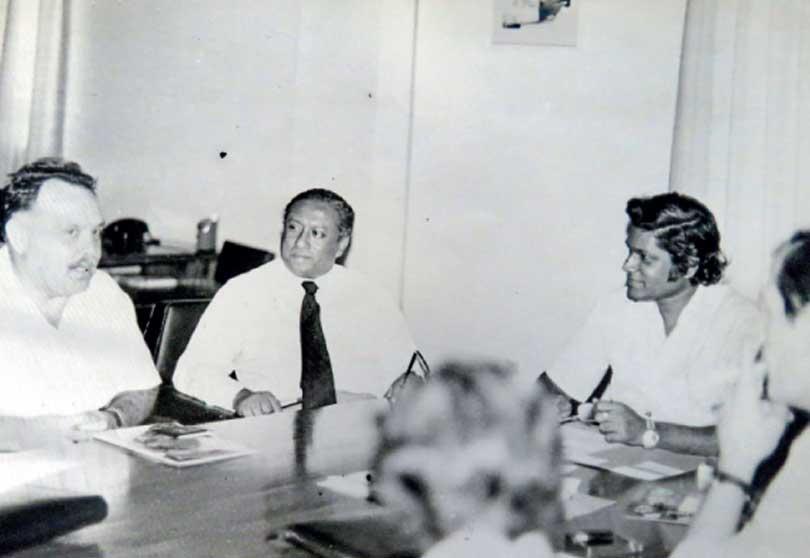 Lavish gifts and promotions

It became fascinating to work under the dynamic presence of Upali. He never hesitated to appreciate or promote efficient hands. Occasionally he also gave us lavish gifts, such as Gilded Watches with the Upali Trade name engraved in them.

His inborn talent and far-sited vision and innovative skills rapidly expanded the Upali Group. Accordingly, Upali Electronic Company was inaugurated introducing Unic Radios, Calculators, Wall Clocks and NEC TV's, with islandwide dealers. Dayaratne and I were put in charge. He also set sales targets and offered special incentives to those who achieved them. Another remarkable quality of Upali was to accompany us to distant areas, such as Batticaloa, Jaffna, Kataragama and Matara etc. to elicit consumers and dealers views regarding Upali Products.

Simultaneously, Upali Motor Company was launched. UMC Mazda and Upali Fiat cars were assembled in Sri Lanka. His other venture was Upali Aviation, covering major cities namely Anuradhapura, Jaffna, Batticaloa, Trincomalee, Hingurakgoda, Koggala and Weerawila. In addition to Kandos Chocolates and the distribution of Kanvita Drink locally he marketed soap such as 'Sikuru' and 'Crystal'. In Malaysia too he inaugurated a Kandos Chocolate plant.

While serving in Jaffna, I first heard the radio announcement of that the tragic news that the Lear Jet had sorrowfully lost all contacts. During my long return journey to office on February 13, 1983 I noticed the mournful gatherings near shops and hotels where people were listening to the news on the radio. Had boss lived, he would have been the unanimous choice of the people at a Presidential Poll which he commenced titled "Ruhuna Udanaya". He began the campaign from his ancestral home in Kamburupitiya.
At the time there were about three clerical hands at the Head Office and Upali advised me not to avoid even a hut or boutique, alongside itinerary and to act regardlessly whether the call was productive or non productive

His vision and mission weren't confined to the confectionery and the industrial sector. He was deeply concerned and committed to agricultural development. This was evident by the investments he made towards the Grand Central & Adams Peak Group of Estates.

Boss was a man of rare virtues beyond all his sincerity and simplicity was immeasurable and inexpressible. Probably very few people knew that he was a teetotaller and was a devoted Buddhist. He made silent contributions for the welfare and improvements of many religious institutions. He once gifted 100 Unic Radio sets to the Dimbulagala Temple and a hand Generator to Elibichchiya Temple in Pannala.
As Chief Basnayake Nilame of the Kelaniya Raja Maha Viharaya, he made generous contributions. He had made it a compulsory rule to offer the maiden items of all Upali Products to the Holy Temple. Even the very first Upali Mazda Car was gifted to the temple. When the Upali Newspapers started to strengthen media freedom, he strictly adhered to assure the prerogative of its editor. It is worthwhile to mention the names of a few contemporaries who were fortunate to receive guidance and advice from our beloved Boss. Namely Ramalingam Murugiah, Mahanama Wijesiriwardane, Susantha Gunawardane, Ranjit De Mel, R Rajapakse, Anneston Weerasinghe, A Ratnapala, Rohitha Udawatte, Peter Kadupitiya, Dharmasena Atapattu, M D Gunawardene, Hemantha Balalla, Nalin Attygalle, Hemantha Dissanayake and Gamini Sellahewa. They still patronise the Upali Group Annual Day.
Though our "Boss" as we fondly addressed him is no more, his name and fame will remain evergreen in the hearts of those who knew him.

"May our Boss attain the Supreme Bliss Nibbhana"

(The writer was an Ex-Sales Executive of Upali Group)