---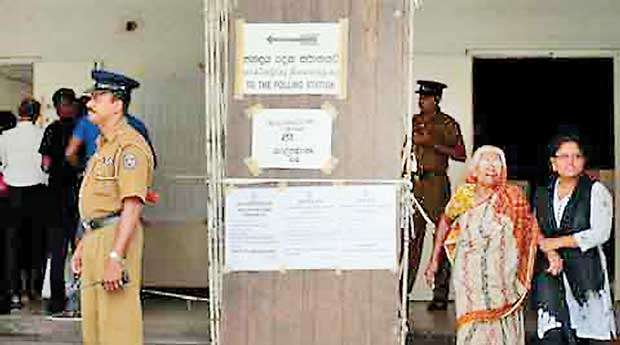 I have been living in my neighbourhood for over 35 years. From the day we moved here, it has been the same polling station. It does not follow the rules of being within walking distance. It does not cater to elders or disabled. It does not follow hygiene norms. It does not fill the rules of a prescribed number of voters only, to be made available to. Voters of then and now have trebled, but the polling station remains the same.

Our polling station is off Narahenpita Road, opposite the Borella cemetery and yet cannot be accessed from that side, due to the road being one way now. We have to travel from the further end, on the left side of the road, park and walk..Down a sandy narrow lane on which vehicles are prohibited to travel, through a gate manned by police, and up some steep steps. Physically helped by a cop! A Community Hall, dusty and unclean. It has been the station for all those years and beyond…first catering to a few voters in the area, but never changed to a more acceptable hall as many more residences, shops and offices have come up there.

I wrote to the Election Commissioner on this matter, and got a reply from the famous Mr. Deshapriya, stating that he would attend to it. I asked for polling stations to be more accessible to elders. There are many school halls, and such available. I hoped that they shift to another premise. Or addition it to the present one. But there has been no change, as the last election had the same situation.

My friend's mother and family, vote in a school hall. Her mother is old and can walk with difficulty. The gate to the school was padlocked and the police said they do not have the key – only the principal has it and was not present. They had to help this old lady physically jump over the gate. They too wrote to the Election office and received no reply.

My cousin lives in Borella, near the cemetery. Her polling area can only be accessed through a dirty lavatory which has not been cleaned. No other approach. She has been going there for years, and the last time due to her advancement in years, she did not go and vote! The conditions being so unbearable.

We have to prepare our minds for days before we summon up courage to go to such awful premises.

I doubt the President, Prime Minister, and other such politicians have these conditions when they go and vote. After all…the newspapers carry pleasant photos of them, walking into huge halls- so clean.

Do they know what the common man goes through to cast his vote? Does anyone care?