---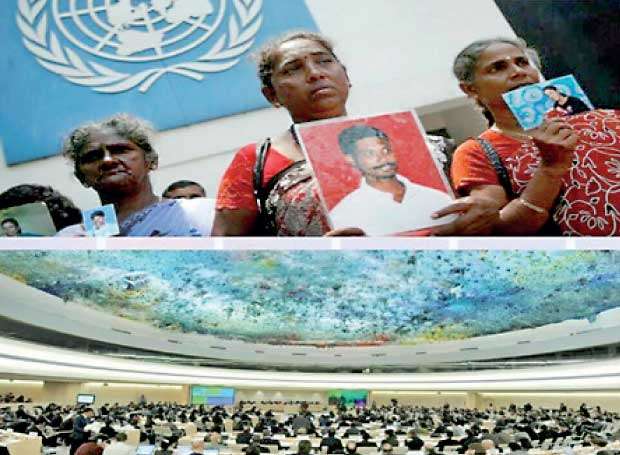 A Response to Sunil Chandrakumara's interview which was published on the April 6th issue of the Daily Mirror: Legal and Factual Clarifications M. Fernando, Z. Husain, N. Jayakody
On the 6th of April, the published an interview with Global Sri Lankan Forum's (GSLF) President, Sunil Chandrakumara. The interview was about GSLFs involvement in the UN Human Rights Council (UNHRC) process and Sri Lanka's transitional justice agenda more broadly. This interview had numerous contentious statements, but in this response, we will focus on legal and factual errors made by Chandrakumara concerning UNHRC Resolution 30/1 and the OISL report, the International Convention for the Protection of All Persons from Enforced Disappearances Act (Enforced Disappearance Act), and the Office on Missing Persons (OMP).
Resolution 30/1 and OISL report
Chandrakumara makes several misleading claims about Resolution 30/1 and the OISL report. He firstly claims that Government sponsorship of 30/1 was 'anti-national'. However, by co-sponsoring 30/1 the Government of Sri Lanka took ownership of its own post-conflict processes, demonstrating domestic control over matters that would otherwise remain international. This includes control over processes that may have international participation. This is evidenced further as 30/1 reaffirms its commitment to the sovereignty, independence, unity and territorial integrity of Sri Lanka. Additionally, by sponsoring 30/1 the Government was able to affirm Sri Lanka's place as a 'responsible, confident and peaceful nation' among the community of nations. This is necessary for the country to acquire tangible economic gains as well as socio-political benefits, such as Sri Lanka's recent reentry into the GSP+ system. Therefore, the Sri Lankan Government's co-sponsoring of 30/1 and the commitment to its goals cannot be viewed as anti-national. Though Chandrakumara did not define what he meant by 'anti-national', the definition for 'pro-national' we are using here are processes that allow for the domestic ownership of post-conflict measures, and that are in the best interest of all Sri Lankans.
Chandrakumara also goes on to claim that the Government acknowledged 'false allegations' in Resolution 30/1, as the OISL report included biased assumptions and followed 'non-standard practices'. For example, he claims there was a lack of verification of the evidence and witness testimonies, and that the report's conclusions were therefore ill-founded. In fact, the OISL report adhered to an internationally recognised legal framework for investigations. The report was mandated to include incidents where there were reasonable grounds to believe the incident occurred with sufficiently corroborated information. Secondly, the investigators organised comprehensive witness interviews from victims in 11 countries; and reviewed 3000 written statements and submissions, audio-visual and satellite materials and other relevant information from various sources including public reports, Government statements, military statements and authentic unpublished official documents. Should there be any shortcomings in the report, it may be because the report was constrained by non-cooperation from the Government of Sri Lanka, lack of access to
Sri Lanka and protection concerns for victims and witnesses.
Chandrakumara then moves to mischaracterize the work of the OMP. He states that 'this special office has been established to investigate complaints received from the Northern and the Eastern provinces.'
Enforced Disappearance Act
Chandrakumara then goes on to make assertions about Sri Lanka's recent Enforced Disappearances Act. He argues that the Act is against national interest. The Act criminalises all forms of deprivation of liberty where these acts of deprivation have not been disclosed or have been concealed. This legislation aims to tackle Sri Lanka's legacy of enforced disappearances that have plagued all communities since the mid 1980s and its 'white van culture', as well as ensure that all Sri Lankans can live without fear of these acts. This cannot be against the national interest!
Chandrakumara also argues that the Act undermines state sovereignty. However, the Act authorises Sri Lankan institutions to investigate, prosecute and try cases of enforced disappearances. An Act that empowers Sri Lankan institutions cannot threaten state sovereignty. While the Act does leave room for Sri Lankan nationals to be extradited to third countries, legal commentators have argued that such a scenario is highly unlikely when the domestic courts themselves have jurisdiction to try these matters. To illustrate, despite Sri Lanka's Convention Against Torture Act already providing for extradition of Sri Lankan nationals to third countries to be tried for the offence of torture, no Sri Lankan has been extradited by the authorities to date. This is because domestic courts have the capacity to try these offenders locally.
The interviewee further claims that the Act will be used to punish the 'political leadership' that oversaw the conclusion of the war. The Act stipulates that the law shall only come into force on the date of certification. It does not have retroactive applicability, meaning that only cases of enforced disappearance committed after the law entered into force in March 2018 are prosecutable. Finally, Chandrakumara makes reference to commissioners who have been appointed to oversee this specific Act. Here, Chandrakumara has confused the OMP with the Enforced Disappearances Act - two distinct legal instruments. The responsibility for prosecuting alleged perpetrators for crimes that occur in Sri Lanka under the Enforced Disappearance Act rests with local prosecutors and not with OMP commissioners, who can only pass on relevant information they have to prosecuting authorities, where it is in consultation with relatives of the victims and in their best interest.
Office on Missing Persons
Chandrakumara then moves to mischaracterize the work of the OMP. He states that 'this special office has been established to investigate complaints received from the Northern and the Eastern provinces.' This is a misconstruction of the OMP Act since it does not restrict the OMP to receiving or investigating complaints from only these two provinces. In fact, individuals or organisations from any province in Sri Lanka can submit a complaint to the OMP about a person who has gone missing during the ethnic conflict (including members of the armed forces and police), a period of political unrest, civil disturbance or due to an enforced disappearance.
The interviewee also makes this assertion on the unfounded basis that the OMP commissioners would be biased and only select complaints received from the North and East for further investigations. This is incorrect. The OMP Act makes it clear that the OMP commissioners are unlikely to exercise absolute discretion when selecting complaints for further investigations. The OMP Act has guidelines which suggest that priority would need to be given to missing persons cases that have occurred most recently, have substantial existing evidence or are of public importance. Furthermore, it is not in the interest of the commissioners to act in such a biased and irrational manner as their decisions can be reviewed by the Supreme Court. Finally, statements made by the OMP Chairman, and the OMP Act indicate that the OMP is likely to rely on the findings of previous Commissions of Inquiry that looked at enforced disappearances. Therefore, it is very likely that the findings of the three Zonal Commissions of Inquiry, which inquired into enforced disappearances during the 1988/1989 JVP-youth insurrection, would also be considered by the OMP when carrying out its investigations. As such, the interviewee's assertion about the OMP commissioners being biased in favour of complaints received from the Northern and Eastern Provinces is legally and factually unfounded.
In sum, many of Chandrakumara's statements have little foundation in fact and law. While Chandrakumara is correct in stating that not all discourses at the UNHRC are helpful to Sri Lanka, his own misrepresentations of Sri Lanka's post-conflict processes also threaten to undermine the country's collective goal towards justice and accountability for all communities.