---
As the first anniversary of Rajah Salgado's passing away approaches, the thoughts of many of his family, friends and associates are turning to their memories of him. In my own case, as I was living in England from childhood, my early memories were mainly my parents discussing how he was helping them with their affairs in Sri Lanka. The respect they had for him was apparent in their voices. It was when I started to visit Sri Lanka regularly that I saw he was a tower of strength for so many others as well.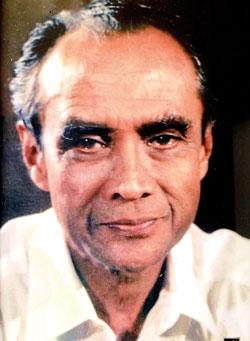 He was a devoted husband, father and grandfather. His devotion extended to his employees, his domestic staff and the local community. He was a man of utmost probity. He and his wife, Swarnamali, were unstinting in the help and advice they gave their extended family, including me, but they also set an example of the type of life we should all lead. When facing a difficulty, for many of his family, the first option was generally to ask Rajah Mama (or Aiya) on what should be done.

He made an immense contribution to the running of local charities and groups such as the Panadura Home for the Aged and the Panadura/Horana Scouts Association. Furthermore he remained as Patron of the OBA Sri Sumangala Boys' School Panadura for over three and a half decades from 1982 to 2018 and the large number of representatives from these organisations who attended his funeral bear testament to their appreciation of his efforts.

He led a type of traditional Sri Lankan life which is now increasingly rare. He lived in a century-old villa which was beautifully maintained and furnished. He and his wife were blessed that all their children and several grandchildren lived nearby in Panadura. Their family were not scattered overseas as is common these days. He was not interested in the skyscrapers and fashion shows in Colombo. His life centred on family, community and religion. He and his wife built a lovely shrine room in their home to perform their daily devotions. He regularly held danas and attended religious events at the Walapala temple and Rankoth Vihara. Until his demise he was the Trustee of the Walapala temple. He was also in charge of the Pinwala Temple during his lifetime.

A feature of his long life was that he could remember an era when Sri Lankan politicians were statesmen. He was related to Dr. W. A. de Silva and Sir Susantha de Fonseka. He could recall life at Sravasti as a child and shared anecdotes about Dr. and Mrs. W. A. de Silva with me. He remembered Rabindranath Tagore coming to Sravasti and patting his head and Baden Powell's visit. He may have been the last living person in Sri Lanka to have direct memories of W. A. de Silva and Rabindranath Tagore.

In spite of his prominent role in the family and community, he was an approachable and modest man. He dressed simply and always had an aura of gentleness and kindness about him. He exemplified the qualities mentioned in the first verse of the Karaniyametta Sutta: 'he should be able, upright, perfectly upright, of noble speech, gentle and humble'.
May he attain Nibbana.
Dr. Rohantha Fernando
United Kingdom