---
This is an opportunity to turn your attention within, analyse, asses and develop your personality. Achieve success at work, harmony in relationships and permanent peace.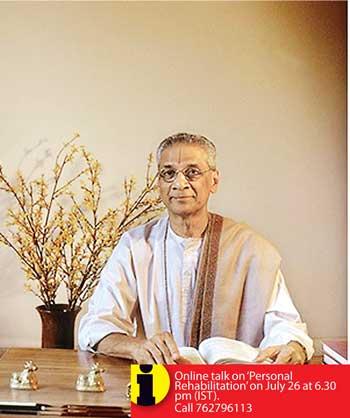 Join a talk by Swami Parthasarathy popularly known as Swamiji and 'Go-Getter's Guru'. Swamiji is a world renowned philosopher, author, speaker and management resource.

On the occasion of Guru Purnima, Swami Parthasarathy will be delivering an online talk on 'Personal Rehabilitation' on July 26 at 6.30 pm (IST). All are welcome to subscribe. To learn more visit www.vedantacolombo.org or call 762796113.

Swamiji is the founder of the Vedanta Academy which is focused on over all development of the human personality. Youth from all over the world with diverse cultural backgrounds study at the Vedanta Academy and learn the technique of life and living.

At the age of 93 Swamiji travels across the globe and conducts programmes on self-management. He also follows a daily exercise programme and has won many most-valuable-player awards for his academy.
(Release by www.vedantacolombo.org )