---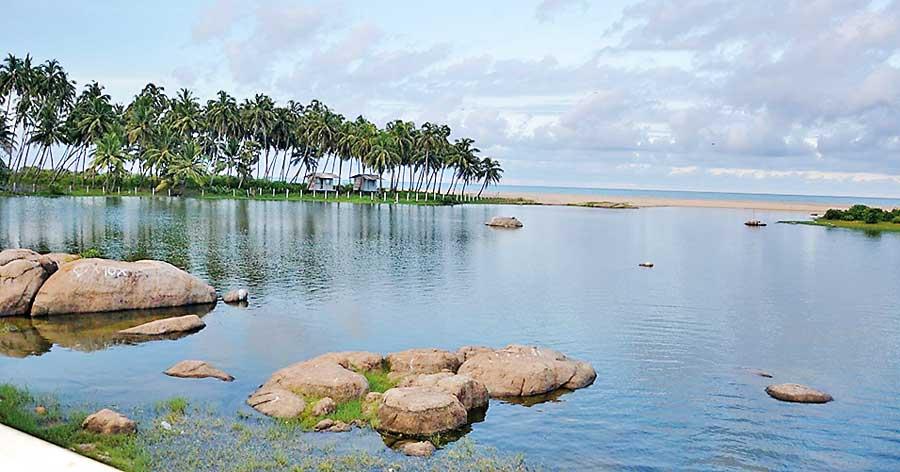 Pristine coastal stretch from Akkaraipattu to Komari under threat
This Island Nation blessed with an abundance of coastal stretches has attracted many investors, both local and

foreign eyeing to extract and make use of the resources it has to offer. Rich with nature's gifts including ilmenite, rutile, garnet and zircon, these coastal stretches have now been turned into mineral-sand mining sites much to the dismay of village folk and those who thrive on industries such as fisheries.
Even though developers seem to be following due processes, heavy environment and economic impacts have been anticipated. Last year, the Daily Mirror shed light on a mineral extraction project carried out by an Australian Company in the Mannar Island. Similarly, several other mineral extraction projects too are taking place along the Eastern coastal stretches.
Impacts from Oluvil Port Development project

The Oluvil fisheries harbour that began operations back in 2013 has caused severe coastal erosion along the Oluvil coastal stretch. While the sea has advanced into the land area, impacts of coastal erosion has posed a threat to turtle production, reproduction of fish and destruction of mangroves. Upon observing the ongoing erosion the government had at one point put up granite wave barkers along the sea shore which had aggravated erosion.
Moreover, the mouth of the Kali-odai River too has changed because of severe coastal erosion. According to a research paper done on the impacts of coastal erosion, several other impacts include loss of coastal vegetation-cover, impact on the Oluvil lighthouse, which is considered a monument of archaeological importance, loss of land for people living in the coastal area and coastal pollution among others.
Oluvil mineral sands project
A 300-page Environmental Impact Assessment (EIA) report issued by the project developer Damsila Exports (Pvt) Ltd., states that the project intends to extract beach mineral sands within the coastal stretch between Akkaraipattu and Kamari. The proposed project area lies within a three-kilometre coastal stretch from Thrirukkovil to Sangamankanda in the Ampara District. The deposit is divided into three geological sand zones namely, Tidal, Beach and Berm. Main varieties of heavy mineral sand identified include ilmenite, rutile, zircon, garnet and sillimanite. According to the exploitation, total estimated amount of heavy mineral sand along the stretch is about 5,431,709 metric tonnes.

The EIA report states that the extraction of heavy minerals from mineral sands differs significantly from sand mining. The developer will only extract approximately 10% by column volume (20% by weight) of heavy mineral sands from the beach and berm zones, with all volume removed being replaced. The backfilling of the mined areas occurs immediately after the heavy mineral sands have been extracted, using clean tailings and sand sourced by dredging the mouth of the Oluvil Fisheries Harbour.

Sandy berms will be directly affected due to proposed heavy mineral mining. Sandy berms are prevalent along the coastline of the proposed heavy mineral mining stretch and many of them harbour rich biodiversity including some rare plant species. Two of them include Sesamum prostratum and Scaevola plumieri (Heen Takkada) that are recorded on sand dunes in the proposed heavy mineral mining stretch are significant plant species due to its rarity and limited or restricted distribution within the country. Sesamum prostratum is critically endangered according to the 2012 National Red Data Book. Apart from that, five endemic plant species and twelve nationally threatened (vulnerable) plant species were recorded on sand dunes in the area. Mining of such an important habitat will have major impacts on the ecology and biodiversity in the area. Therefore, critical mitigatory measures will have to be adopted to minimize these impacts.

The report observes that lagoons and mangroves will not be directly affected due to the proposed heavy mineral mining as these are found only in the surrounding area and not within the mined area. However, indirect disturbances on wildlife of lagoons and mangrove patches could be anticipated due to proposed sand mining activities.
The developer also intends to develop the Oluvil port area to be utilised as the base of operations, the location of the mineral separation factory and for the export of the final mineral products.
Specifications depend on the location
According to the EIA report, the mineral sand deposits lie on a coastal strip varying from 50 meters and 300 meters in width. Responding to a query on specifications required for mining on a coastal stretch, Dr. Terney Pradeep Kumara, General Manager at Marine Environmental Protection Authority said that irrespective of specifications, any project that is being done on a coastal stretch should be approved by the CCD.
"Specifications depend on the location. Once minerals are extracted sand needs to be pumped back into the beach to restore the beach. We are sitting on a gold mine and there won't be any use if we don't use these resources. Therefore these resources should be extracted in an environmentally and economically feasible manner as they would generate more income to the country," he said.
EIA still open for public comments
"No approval has been granted so far since the EIA is still open for public comments," said A. H. Gamini, Director Coastal Resource Management at the Coast Conservation Department. "We have sought the views of fishermen and there will be several technical meetings before we arrive at a conclusion. The area is rich in minerals such as rutile, ilmenite, garnet, silica that have a huge export market," he said
Exploration license issued
The Geological Survey and Mines Bureau (GSMB) has issued an exploration license to Damsila Exports (Pvt) Ltd. "But we are awaiting the report from CCD to issue a license for mining," GSMB Chairman Anura Walpola said. "To issue a mining license we need to check the EIA report. Exploration doesn't have an impact on the environment. Prior to issuing an exploration license we mainly check the economic and technical capacities of the contractor," he said.