---

A section of the audience at the event
We have amidst us those who need a little more attention than others and support to lift them from despair. They are a part of us who should not be abandoned but be made part of the society.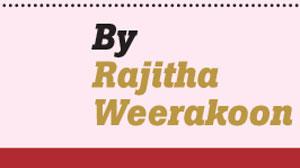 The call to open more doors for them, touched a chord in the audience when Manique Gunaratne, who has dedicated her life to elevate the standards of the disabled community, made the plea when she delivered a very moving address at an event titled "Inspiring Women." Organised by the Sri Lanka Federation of University Women (SLFUW), it was held to mark this year's International Women's Day.
The second in a series, the event was addressed by two women on the invitation of SLFUW President Seela Ebert when in an effort to inspire volunteers Manique Gunaratne and Dr. Lanka Jayasuriya Dissanayake took the stage to give a bigger picture of those whom they have chosen to serve.
Ms. Gunaratne who spelt out areas where the disabled are discriminated requested the audience to close their eyes for two minutes. What was seen or unseen she said is their life, the life of the visually impaired. If you understand the real plight of them, the desire to assist them comes easily.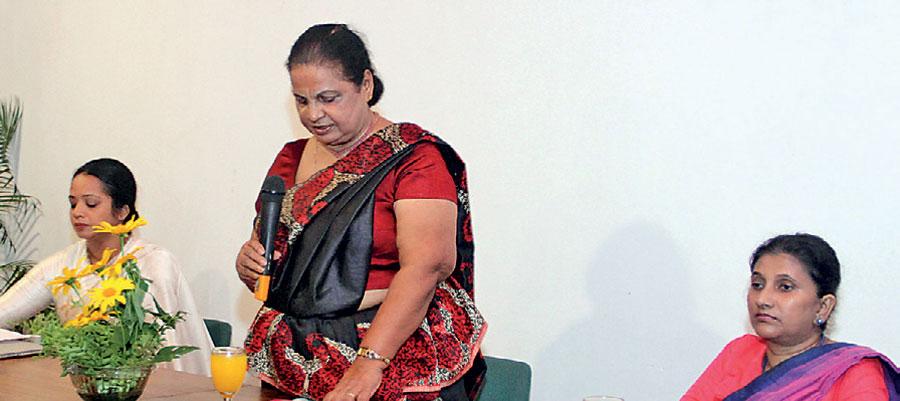 Dr. Lanka Jayasuriya Dissanayake, the second speaker at the event, SLFUW President and Ms. Manique Gunarante at the High Table.

Ms Gunaratne, Manager of the Specialised Training and Disability Resource Centre at the Employers' Federation of Ceylon, Rajagiriya for several years now said that she is grateful that the SLFUW recognised disability which was why she was invited as a key speaker. She is aware of the obstacles that stand in the way of the disabled. Especially if the disabled lack knowledge of Information Technology. Therefore, as a leading specialist in training, promoting and developing information technology she has been imparting communication-knowledge for persons with disabilities which had made an impact and has been recognised nationally and internationally.
While doing so, she plays a major role in advocating, lobbying and paving the way to find long-term sustainable employment and livelihood for them. Being a leading specialist in this field, she has used her ability to convince others and had succeeded in finding employment for the disabled in the private sector.
Ms. Gunaratne is also a Resource Person and a Public Speaker at national and international forums and to the media and has represented Sri Lanka at international conferences, training programmes, seminars and workshops. She is Vice Chairperson of the South Asian Disability Forum, a founding member of the South Asian Women with Disabilities Network and a member of the Asia Pacific Women with Disabilities United.
"What makes the trauma worse is when cancer strikes a member of a poverty stricken family when they find themselves in a helpless situation"

An International Training and a Supported Employment Officer, qualified from the Northern Ireland Union of Supported Employment, her services to the disabled community have brought her eight National Awards and two International Awards.
What is the situation of a family when a member is diagnosed with cancer and the patient is directed to the Cancer Hospital?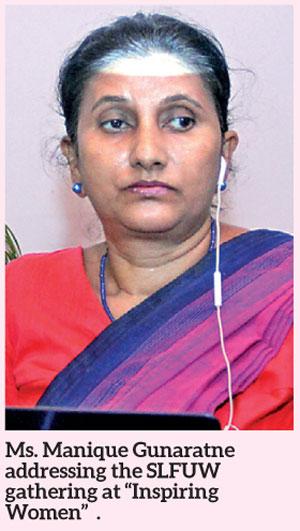 Dr. Lanka Jayasuriya Dissanayake who addressed a very attentive audience at "Inspiring Women" on how relief could be brought to victims of cancer and their families said that the very name Cancer Hospital drives fear into the patient and the family. One of the first tasks of the Indira Cancer Trust of which Dr. Jayasuriya Dissanayake is Chairperson, therefore, was to change the name from Cancer Hospital to Apeksha Hospital, Maharagama.

And what makes the trauma worse is when cancer strikes a member of a poverty stricken family when they find themselves in a helpless situation. Economic constraints, medical bills, lodging for family members close to the Hospital if they live in a distant area, finding themselves in strange surroundings and not knowing where to go when attending to the patient are some of the factors that torment the affected families. The Indira Cancer Trust works with Apeksha Hospital and several corporate sector contributors in carrying out counseling and upgrading the living conditions of cancer patients along with their tormented families in alleviating as much as possible such situations.
Dr. Jayasuriya Dissanayake, a medical graduate from Leeds University, UK with MBA in Health Care Sciences from Manipal University, worked with the WHO for over twenty years. She was an active member who worked with Sri Lanka Red Cross, National Hospitals of Sri Lanka as well as hospitals of the private sector. Indira Cancer Trust was set up in memory of her sister Indira Jayasuriya who passed away after a brave battle with cancer leaving behind her husband and two children. The Indira Cancer Trust founded in 2016, carries about twenty two projects to elevate the living conditions of cancer patients and their families. With breast cancer being the commonest, the Trust has also, launched centres along with the corporate sector to carry out pre-cancer examinations. Mammography trucks are being organised to visit towns and villages where people have no easy access to mammography, to make it easier for them with the examination.

There are many organisations which have volunteered to assist them with their projects. Hair donations by volunteers are assisted by Ramani Salons. Many more volunteers are needed in this project to make wigs for those who have lost hair due to the receiving of chemo therapy. Birthday programmes for children with cancer are sponsored by Lassana Flora which donates flowers and gifts. Other forms of therapy include craft, music and yoga at the Razavi Medical Complex. Family members have not been overlooked. Diriya Hala programme is designed to open the opportunity for family members of cancer patients to sell their products at government institutions on week days.
Currently, 275 active volunteers and trained counselors have rallied round the ICT dedicating themselves to work towards the well being of patients. But many more are needed. The Trust has already expanded its services even to the provinces and also maintains a cancer helpline which responds to any kind of cancer-care inquiry.

A part of the audience