---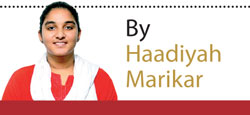 Dancing through nine years has finally paid off for Hariny Muhunthan, as she prepares for her Arangetram to be held today at the Kathiresan Hall, Colombo from 4 to 6 p.m.

Hariny is a student of Tonbridge Grammar School, London and has just finished her O-Levels.
She has been learning Bharathanatyam for nine years now and received the title Natya Kalajothy after completing her diploma in Bharathanatyam last September.

Apart from traditional dances, Hariny has a plethora of talent that she has developed over the years.
She shows a great passion for Carnatic music and has also been learning Western music on the piano for the past two years. She is currently learning the violin and has previously learnt vocal singing.

The repertoire of Bharathanatyam is not an easy to teach dance form and Hariny has her teacher of nine years, Smt. Malathy Jeyanayagan, to thank for helping her embrace and enhance her talent in Bharathanatyam.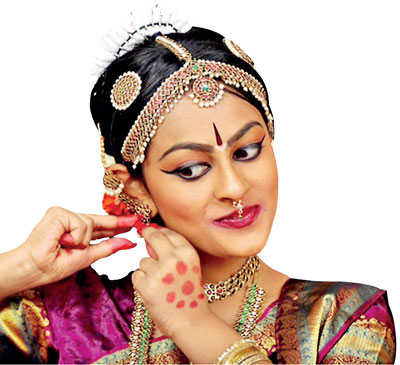 Smt. Jeyanayagan had her initial training under the tutelage of Smt. Subathra Sivathasan. She had her Arangetram in 1976. She was awarded the title Natya Kalamani. She had taught Bharathanatyam at Ramanathan Hindu Ladies College and at Vigneswara College in Jaffna. She is now the director of 'Salangai Natham' and has been a teacher at CAEA for the last 25 years.

She has also been teaching at Plumbstead Tamil School for the past 20 years. Malathy Jeyanayagan has choreographed for a countless number of Arangetrams and has had over 75 students, who have gained their diploma. She has undoubtedly made a huge contribution to Bharathanatyam in London and has inspired many to students to establish as professional teachers.

After almost a decade of dancing, Hariny has been deemed worthy of graduating from being a student of Bharathanatyam. Under the watchful eyes of her teacher she will perform a series of Bharathanatyam dances. Renowned artiste and founder of Aru Sri Art Theatre, Dr. Arunthathy Sri Ranganathan will attend as the Chief Guest.

The doors are open for all who wish to witness Hariny's great flair for the classical Indian dance form.