---

K. A. W. Perera's Hingana Kolla was the most perfect of all W. A. Silva adaptations

Vijayaba Kollaya, takes us to a different world: Written 15 years after Hingana Kolla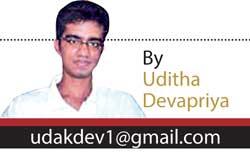 Sunil Ariyaratne once told me of a film he watched at the Quinlon in Nugegoda in the early 1970s. The film was Ryan's Daughter, and it was directed by the great David Lean, who also made the immensely popular Doctor Zhivago. Dayan Jayatilleka, who would have been all of 15 at the time when Ariyaratne was approaching 21, told me that as far as movies came and went, Ryan's Daughter was "forgettably anodyne" (go ahead, check it up). Despite the blandness, however, it inspired the young Ariyaratne. Ryan's Daughter is about a young woman caught between two men. 10 years after his encounter, Ariyaratne made Siribo Aiya, which, if you think about it, is also about a man and two women. Lean's film had a historical backdrop, however: the Easter Rising. Four decades after Siribo Aiya, Ariyaratne has now given us something close: a woman caught between two men, in the midst of love, rebellion, intrigue, and to top them all up, history. He's given us Vijayaba Kollaya.

Vijayaba Kollaya has as little or as much to do with its historical backdrop as Titanic did with the sinking of a ship. This, of course, is to underscore a point that appears to have escaped quite a number of audiences and critics, who complain that they thought it was about the spoiling of Vijayabahu VI. The film was based on the novel. The novel, though based on the historical setting, does not centre on it. There is a love triangle, there are those who oppose it, and there are the lovers in the triangle, who come to accept it for what it is. If that sounds or seems like the millionth variation of every other love story you encounter everywhere else, it's probably because it is; Vijayaba Kollaya had as much to do with the spoiling of Vijayaba as Walter Scott's stories had with the Crusades. Lester James Peries claimed it was difficult to adapt W. A. Silva's novel. (Ariyaratne inserts the claim in his brochure.) I see his point, though I don't agree with it: the novel is the most lavish historical romance by a Sinhala novelist I've read; in comparison, W. A. Silva's other works seem a little tame. To film is it here, in native soil, is to risk losing its sense of epic, glossy grandeur.
In that sense Ariyaratne has made a gamble. And to be fair by him, he hasn't entirely failed. He hasn't entirely succeeded either, but since this isn't a submission to the Academy Awards I don't think that should bother anyone. The hits and misses of a film like Vijayaba Kollaya, I think, should be judged purely in terms of the criteria a reviewer normally resorts to when pronouncing judgments on local movies. If there are incongruities, plot-holes, scenes that go nowhere, and lack of character development, which there usually are, it's not like most of our movies are free from them anyway. Once you account for them, then, what emerges from the film is what you see with every other local film.
Ariyaratne has made a gamble. And to be fair by him, he hasn't entirely failed. He hasn't entirely succeeded either, but since this isn't a submission to the Academy Awards I don't think that should bother anyone

What W. A. Silva needed was a storyteller to turn his novels into veritable box office hits. He got those storytellers, even if their adaptations weren't critically acclaimed: Kele Handa was the first Sinhala film based on a novel, while Deiyanne Rata and Daiwayogaya scored quite successfully with audiences also. K. A. W. Perera's Hingana Kolla was the most perfect of all W. A. Silva adaptations, because Perera, not unlike Silva, was a teller of tales unconscious of his artistic worth. Hingana Kolla takes place at the tail end of the 19th century and it has the charm of an Alexandre Dumas mystery-adventure romance. Vijayaba Kollaya, on the other hand, takes us to a different world: Written 15 years after Hingana Kolla, it may not have been the first local work of historical fiction, but it was the first most significant. That it missed the filmmaker's radar shows how difficult adapting it was seen to be.
As the plot progressed, as our three heroes found themselves entangled in a triangle from which there was no escape, and as they did escape it, only to find themselves entangled in a much bigger conundrum in the form of their ongoing war with the diabolical, hostile villains from the other part of the world, I tried to count the number of times the same phrases and the same clichés were resorted to. After a while I stopped counting, not because there were so many of them but because I couldn't bother. The story springs up its share of inexplicable surprises, and I found myself dwelling on them instead. Like how Neelamani falls for Nayanananda after just one nightly encounter: To a man, the two of them falling in love might not be so difficult to come to terms with (we can assume it has something to do with his appeal, his brashness, his sensuous handling of his sword), but to a woman it's inexplicable if not equivocal: There's no build-up, no preparation, virtually no climax.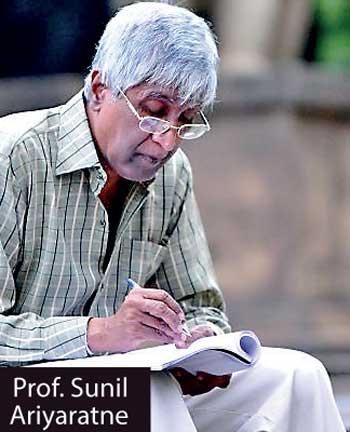 The love story comes first; the history comes later. What little of the latter we are given conforms to the usual narratives: a tempestuous father, disgruntled sons, scheming guards, consorts, and half-brothers, and an encounter that ends up in parricide and regicide. Give credit where it's due: if Ariyaratne doesn't quite interpret the flow of events in a way different to how chroniclers and narrators have over the last few decades and centuries, he at least stages them well. And if he stereotypes them all, well so did the novelist and so do every other filmmaker. That's how Ariyaratne can have the cake and eat it too: the Portuguese are heinous devils, but Father Coutinho, their chaplain, sympathises with the Sinhalese even if he believes in converting them. Then there's Hamidumma, who swears by the name of Allah every other minute, reinforcing those timeless bonds between Muslims and Sinhala Buddhists in the face of Portuguese aggression. The film is a mosaic; it goes everywhere and tries to give us everything. It's a clarinet call for national reconciliation.
There are also, of course, those inexplicable, bewildering plotlines. I've already mentioned the immediacy with which Neelamani falls for Nayanananda. But consider the scene where Asanga, Neelamani's betrothed (whom she gives up for Nayanananda), has to pick a fight with de Lazarda, commander of the Portuguese forces, and instead of stabbing him taunts him to a fight. The sword (or knife?) fight does end with Lazarda killed, but then it wakes up de Brito, another commander, who follows him and later finishes him off.
Sequences like these jar, as they usually do. They abounded in the novel too. And like a symphony that never quite reaches the climax, they come and suddenly go. Consider that Neelamani, after being discovered with Nayananda, then threatened by her own parents ("I'd rather she kill herself than marry that vile man," the father tells a remorseful Asanga), is reconciled to her lover right after the latter fights off de Lazarda's forces. Need I add here the later scene, which stumped me, of Neelamani pleading with Asanga to rescue Nayanananda, even after she's been informed that her father has been killed in the battlefield?

I was told that even at 130 minutes, at a cost of Rs.75 million, and in 3D, Vijayaba Kollaya condenses the novel. Even in the most incongruous moments, Silva has a habit of evoking humour; this quality distinguishes him from Piyadasa Sirisena. The timing isn't wrong but it's not apt for the occasion either. Thus, in the midst of rebellion, murder, love, lust, intrigue, we see Father Coutinho frantically making Biblical revelations. In W. A. Silva's world the drama can't be really isolated from the comedy, even if the latter is seen in a few sequences. His characters never actually brood or contemplate; they exist for the adventure to take off, which, after all, is and was the payoff in his stories.

None of this comes out in the adaptation. Ariyaratne can be faulted for erasing away some of the more lurid, torrid passages and descriptions of love, sex, and religion in the movie, but then that's the director's prerogative. And in any case, in place of what he's erased away he's inserted new plotlines: To celebrate the arrival of a new fleet, de Lazarda organises a lavish dinner, replete with violas and mandolins and a baila item by Sanuka Wickramasinghe. The song, like the movie, tries to reveal everything: In the space of three and a half minutes, we are told what exactly the Portuguese gave us, from food to dress to language to culture. It doesn't feel right, and it feels a bit disjointed, because Ariyaratne plays to the gallery even with the music. In fact there's little, very little, in Vijayaba Kollaya that does not play to the expectations of a middle class audience. Ariyaratne has had to work within this limitation. I wish he didn't have to, but inevitably he has had to: this is Sri Lanka. Whether or not his movie succeeds, then, will boil down to how he has surpassed this limitation.