---
World's 5th to do so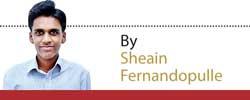 Prison itself is a tremendous education in the need for patience and perseverance. It is above all a test of one's commitment." -Nelson Mandela

A prison is a place where criminals and wrongdoers are detained. However, it is a different matter when people who are unable to prove their innocence, are also detained there. Here, the story is of an inmate, Indika Bamunusinghe, who is on death row, completing his 'Masters'. Many a people say that being imprisoned is the worst experience one can have in life. However, Bamunusinghe proved that things could be changed for the better with one's diligence, commitment and enthusiasm while being behind bars.

This achievement by Bamunusinghe is considered historic as he becomes the first in Sri Lanka and fifth in the world to obtain a Master's degree during a period of imprisonment.

Bamunusinghe, who was an ex-sub inspector of police, was sentenced to death for the murder of Bambalapitiya businessman Mohamed Shiyam.
His wife helped him with his studies while studying for the degree. She provided him with the tape recordings of lectures from the university

He had been studying for the B.A. as an external student of Sri Jayawardenapura University at the time of his arrest.

This is the first time a prisoner has accomplished such a feat in the history of Sri Lankan prisons.

He was conferred with the Master's degree during the Kelaniya University convocation ceremony held at the BMICH recently.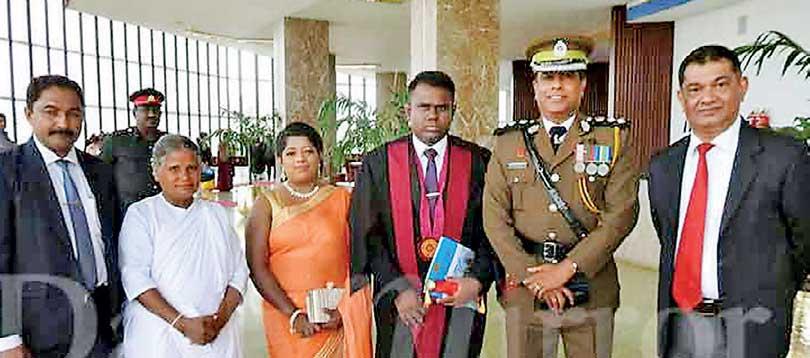 Bamunusinghe with wife and mother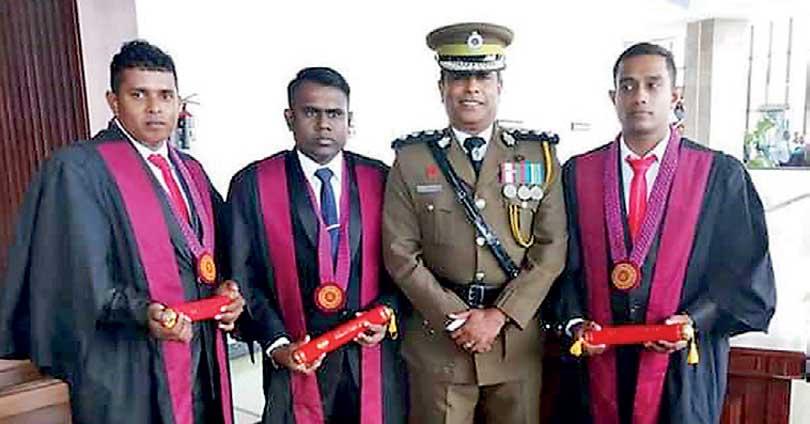 Bamunusinghe with two other prison officers who also obtained Masters

Reaching the goal

Bamunusinghe graduated with a Bachelor of Arts (B.A.) degree in Social Sciences from the University of Sri Jayewardenepura in 2017 and started preparing to sit for his Masters at the Kelaniya University.

He read for his degree from Jayawardenepura University with his subjects being Sinhala, Buddhist Culture, Social Sciences and Criminology while the subjects he studied for during post-graduate degree from the Kelaniya University being Social Science, Social Culture, Social Research, Combined Social Science, and Contemporary Social Science.

His wife helped him with his studies while studying for the degree. She provided him with the tape recordings of lectures from the university with assistance of the university staff who complied with prison regulations under the guidance of Commissioner of Prisons (Rehabilitation) Chandana Ekanayake.

It's an honor to the prison: Chandana Ekanayake

Speaking to Daily Mirror, Chandana Ekanayake said that the request made by the inmate to register himself at the faculty of Social Science at the Kelaniya University for his Masters was endorsed by then Prisons Commissioner General Nishantha Dhanasinghe.

"This marks the first occasion in the history of prisons in Sri Lanka and the fifth in the world when an inmate obtained his Master's degree. Therefore, it is a rare privilege for the inmate and an honor to the prison. We salute him.

I should mention that this person has taught us a valuable lesson which is, "Strive hard to achieve your goals irrespective of whatever condition you are in," Ekanayake said.
He was assisted by a former university lecturer who is also an inmate when Bamunusinghe was preparing himself for the B.A. degree programme in Social Sciences," Ekanayake added.
"The regulations do not permit the inmate to participate in the lectures conducted at the university, but he will be provided with the lecture notes and the opportunity to listen to lecture recordings in the prison," Ekanayake said.

The faculty of Social Sciences at the University of Kelaniya had decided to conduct entrance exams from October 29 to December 09, 2018 for M.A. hopefuls. Bamunusinghe attempted qualification at an exam conducted at a separate examination centre in the Welikada Prison premises.

I am grateful to prison authorities: Bamunusinghe

Bamunusinghe said that he was delighted to complete his master's degree and added that he was grateful to the prison authorities for giving him permission to complete this task from the Welikada Prison.

"It is my humble desire since childhood to graduate as a degree holder. However, I couldn't complete the degree at the due age owing to some allegations levelled against me. But I am satisfied that I was able to complete my B.A. at the age of 30 while still being in prison.

Now I am 32. I will never lose my grip on life. But I am a little disappointed when I reflect on the state that I am in now. I am determined to continue with my studies regardless of the hardships I encounter," Bamunusinghe said.

He mentioned that many people had insulted and mocked at him querying as to how an individual behind bars could think of succeeding at a Masters degree.