---
'The Lord gave, and now he has taken away. May his name be praised!' (Job. 1:21). It's three months since our uncle Fr. Raveen Perera was called to rest in the Lord. We miss him very much and we as family understood that there are so many others who genuinely miss him as well. It is because of the exemplary priestly life he lived and the Love of Jesus that he was able to radiate love to all who came to him.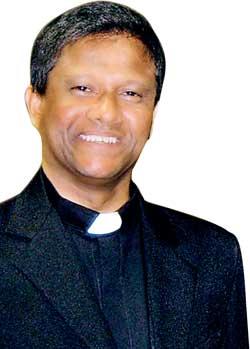 Fr. Raveen was a role model to us. He was a guiding light to the family. Of course he had little time for the family, but that little meant a lot to us. Whenever he visited home we saw that his main concern was returning to the place that was assigned to him by the Church. He was fully committed to the tasks entrusted to him. Most of all he was a true disciple of Jesus Christ and practised and lived what Christ preached as the Director of the Philosophate of the National Seminary. We felt that he did his best to improve the seminary in many areas. Particularly the facilities of the kitchen area and the library were uplifted for which the resources were found by him by going out of his way. Yet he never even spoke about what he did. We only came to know this from his past students; now elite priests serving the lord's vineyard across the country and the world.

But if there was anything of which he did speak about within his lifetime it would certainly be of his assignment in the parish of Monaragala. "The best time of my life" he would say. Though when we once visited him there we saw how life was hard there. But my uncle, was the happiest. After his death we were told countless stories, about his ministry, which he never shared. One that touched us most was a story where he had taken the children in Monaragala on a trip to show them the sea, the Thewatte Basilica, the Airport and Colombo; something none of them had ever seen in their lives.

Now when we look back we find many sterling priestly qualities like simplicity, honesty, patience, spirituality and sense of poverty which were visible in his life. Very often he travelled from Badulla by bus. He used the van given to him very carefully. Towards the end of his life he worked tirelessly as the Director of Caritas in the diocese and as the person in charge of building a new hospital in Badulla. His heart was always with the work entrusted to him by the Church. We felt that his sincerity and dedication to a given task was unprecedented. Many Bishops, Priests, Buddhist Monks, Hindu and Muslim clergy offered appreciations about Fr. Raveen. We know that they were very sincere in all what they expressed. They seemed to feel the pain of his untimely departure. Though we are deeply saddened we also feel proud that we had an uncle like Fr. Raveen whose memory will never fade away from our lives. And though we miss him here I'm sure that everyone in heaven must be enjoying his company and his infectious smile and compassionate heart. May the good Lord grant him the eternal reward.
Ryan Perera