---
In 1927 a son named Charles Neville Cooray (1927 - 2020) was born to Jerome and Lucy Wijegunawardena Cooray of Ragama.Subsequently siblings Herbert and Lilian joined the Family. The brothers had their early education at St. Joseph's College, Colombo. Neville having passed his London Matriculation in 1943, gained admission to the Science Faculty of the University of Ceylon, from where he obtained a Bachelor of Science Degree, majoring in Biology.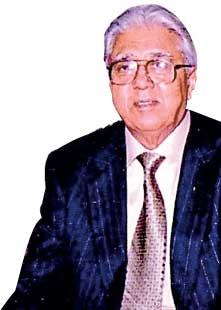 Continuing in higher education he was selected to the Medical Faculty of the same University. In 1953 he obtained a Bachelor's Degree in Medicine & Surgery. His initial assignment was at the General Hospital, Colombo where he worked as a Resident in both Medicine & Surgery.The year 1954 was a milestone to Neville as he was introduced by arrangement, to the beautiful, vivacious and young Noeline Rohini Nedra, the daughter of Robert and Sarah Samarasekera Gooneratne of Mawathagama. The wedding took place in Colombo in 1954 and they were blessed with the birth of their 2 sons, Anil and Rohan.Neville was extremely proud of his wife's artistic, musical and literary skills, of which he spoke eloquently at both public and private functions. Neville's medical journey, switched to Radiology, where an opportunity arose for him to proceed to the UK, on a Commonwealth Scholarship. He honed his newly acquired Radiology skills at the Hammersmith Hospital in London and at Holt Institute, in Manchester.
After his stint in the UK, he returned to Sri Lanka and took up multiple positions as a Senior Lecturer at the University of Colombo, whilst working as an active staff member of the Cancer Hospital, Maharagama. Once more an overseas assignment was in the offing and on this occasion it was further west, to Newfoundland, Canada, where he obtained positions at the Memorial University and the General Hospital of that province. After working for 4 years in Canada his next move, was to neighbouring USA, where he was offered positions in the New York State University of Syracuse and in 4 hospitals in the same city. Bidding goodbye to New York in 1976 the family moved to Pittsburgh, Pennsylvania where he held a Directorate of the Montefiore Hospital, and Assistant Professor of Radiology, at the University of Pittsburgh P. A. After almost 20 years of work in Pittsburgh, Neville retired in 1996, and the family left its palatial residence and finally returned to Sri Lanka. Neville in his retirement, found two interests, namely cricket and wildlife. Our wildlife sojourns were to the Kaudulla and Minneriya Wildlife Parks, as well as to the Yala National park. The Tsunami of 2004, decimated brother Herbert's Yala Hotel, resulting in a tragic loss of lives of the Hotel Staff. This painful experience meant that we never went back to Yala again. Fortunately Neville's interest in cricket meant that we regularly watched cricket, especially the one day matches, featuring visiting foreign teams. Neville's world, quite rightly centred around his immediate family, giving them first priority.
But he also had plenty of time for his extended family and his chosen friends. Even at the height of his medical career overseas, he and Noeline, whenever they visited Sri Lanka, never failed to visit us on the estates we were in and spend some quality time with us.Neville was as a unique individual who remained calm at all times and was never in a hurry. He was an epitome of a courtesy to whom so ever he met. To me it was a rewarding experience to be in his presence.
Bradman Perera.