---
Mohan Lalvani, the youngest of the famous Lalvani Family comprising 7 sisters and 4 brothers, passed away peacefully on August 8, 2017.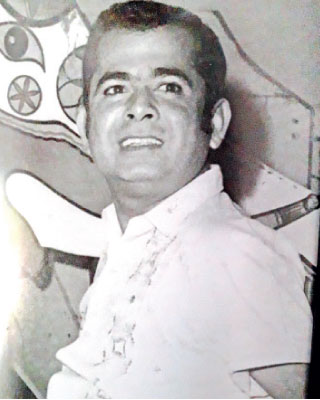 Mohan was a gifted sales person and handled the day to day marketing and sales of the famous store down Main Street in Pettah, the Lalvani Brothers. After a long stint with the family business he ventured into the mercantile sector and joined the Maharaja Organization as a Director.

He was a larger than life personality, a trusted and dependable friend, for people from all walks of life, both in Sri Lanka and overseas.

As a loving husband, father and father-in-law, he played his part to the very end. I'm sure every daughter would want a father like him. Nothing was impossible when it came to his family and he provided everything we wanted without complaining. He was a strict disciplinarian and an honest man of his word which was appreciated by like minded people.

He loved and adored his four legged grandchild Isabelle and spent long hours with her everyday making sure all her needs and wants were met without delay.

With his birthanniversary on the 21st of October and Christmas around the corner we fondly remember and miss him for his various involvements in the preparations and drive to get things done.

He was the life of a party, and along with his hundreds of friends and associates he lived his life to the fullest. There was never a dull moment with him around. He was sought after for his jokes and quotes and his sense of humor will long echo in at the famous 80 Club of Colombo.

All of a sudden on a fateful Tuesday morning in August he said his final goodbye. He will always be remembered for his colorful life and devil may care attitude.

It would be impossible to include everything on paper regarding someone, a larger than life personality-like Mohan Lalvani. Everyone who associated with him closely will fondly remember and treasure those lovely moments spent with him.

Goodbye daddy, hubby, grandpa, father-in-law, brother and uncle, until we see you again on the other side.

Like a sunlight fading in the clear blue sky, you were gone too soon.
Loving daughter
Sharon Lalvani