---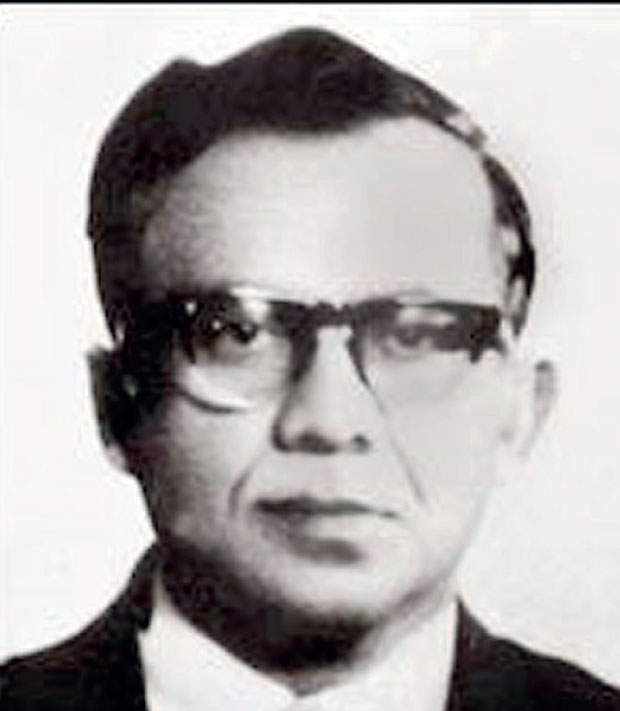 I consider it an honour and a privilege to be provided with the opportunity to pay my tribute to the late Prof. J.E. Jayasuriya whose 100th birth anniversary falls on February 14. Unfortunately I didn't have the privilege of being a student of Prof. Jayasuriya nor had I any personal acquaintance with him. However, I was fortunate to have some links with him through the prism of his publications and writings and the verbal lore of his colleagues and students who have greatly admired and revered him.
Born in 1918, he started his primary education at Nawalapitiya Anuruddha Vidyalaya and then joined Dharmasoka College Ambalangoda before finally crossing over to Wesley College, Colombo. In 1933, he sat the Cambridge Senior Examination and displayed his brilliance by securing the third place in order of merit among all candidates of the British Empire. In recognition of his brilliant performance, he was awarded with a scholarship to the University College, Colombo. In 1939, at the age of 21, he graduated with a First Class in Mathematics.
Prof. Jayasuriya commenced his career as an educational administrator being the first principal of Dharmapala Vidyalaya, Pannipitiya. In recognition of his abilities Dr. C.W.W. Kannangara invited him to be in charge of the central school established in the Minister's own electorate, Matugama.
On his return after Post Graduate studies at the Institute of Education, University of London he was in charge of Mathematics education at the Teachers' College Maharagama until appointed as a lecturer in the Department of Education of the University of Ceylon. In 1957, he succeeded Prof. T.L Green as Professor of Education. He became the first Sri Lankan to hold this post.
In his capacity as Professor and the Head of Department, Prof. Jayasuriya undertook the task of professionalizing education. He was the role model for all the academic community with his professional attitude, open- mindedness, multi-disciplinary versatility and commitment to his vocation. It was his vision that made him initiate the first undergraduate degree in education, the Bachelor of Education at the University of Peradeniya in the late nineteen sixties. This he did to ensure the pre-service training of graduate teachers.
Even though the programme was suspended after a few years in operation, the majority of the first generation of B.Ed. graduates have achieved high professional status both locally and globally. The popularity of this course, which is now offered at the University of Colombo, testifies to the foresight of Prof. Jayasuriya in developing this programme. However, while there are moves to expand the Bachelor of Education programmes it is necessary to review these programmes in the light of Prof. Jayasuriya's vision to maintain quality in the B.Ed. course he designed.
Intelligence testing
Prof. Jayasuriya was a pioneer in introducing intelligence testing. The National Education Society Intelligence Test, which he helped to develop, was the only standardised test available for teachers at that time in national languages. He also adapted the Raven's Non- verbal test to Sri Lankan standards. For many years these were the instruments used in testing.
The first National Education Commission ever to be appointed, in 1961/62 of which Prof. Jayasuriya was the Chairman, proposed far-reaching reforms in many areas of education.
At a time when educational research wasn't in vogue in Sri Lanka Prof. Jayasuriya was a forerunner in the culture of research with an array of research on diverse fields. He was also a prolific writer of books and monographs, both in Sinhala and English. They are a great treasure trove to students and researches even today. Undoubtedly he personified the ideal university teacher, dedicated to the three goals of a university: teaching, research and service to society.
Prof. Jayasuriya was also known as the father of Population Education in the Asian region. After premature retirement from University service he took up an assignment as the Regional Advisor in Population Education at UNESCO, Bangkok and worked there for five years. He headed a team of specialists to help the countries of the region to forge ahead with this novel program. Prof. Jayasuriya developed and published a Source Book on Population Education in Asia which was widely distributed in the region and was influential in the evolution of the concepts and programming practices of population education. Further he launched programming missions in the countries in the region which led to the establishment of population education projects. He was also responsible for setting up a clearing house of publications on population education at UNESCO Office to which he himself authored many articles.
His books made learning a pleasure As mentioned at the outset I was acquainted with Prof. Jayasuriya through his books. I was fortunate to be one of the last batches of students to learn Mathematics using the set of books he authored. Learning Mathematics was a pleasure as the concepts were presented clearly and logically with adequate exercises to practice what is learned. Sadly this is not the case in relation to learning mathematics in Sri Lanka today.
Many who have written about Prof. Jayasuriya have highlighted his forthrightness, fearless advocacy of the cause he believed in and an uncompressing intellectual honesty. These qualities are exhibited through his writings especially in Some Issues in Ceylon Education- which is a critical reaction to the distortion of his recommendations of the National Education Commission Report (1962).
In the book During British Rule in Ceylon, he analyses the education system during British rule in retrospect. In the book Education in the Third world – Some Reflections he highlights the need to deviate from the western education models and how Sri Lanka has lost its direction in education policy.
At a time when Sri Lanka's education reforms are being discussed, it is most opportune to step back and glimpse at the views and vision of an educationist par excellence of the times belonging to yesteryear. The medium of instruction, English language education, free education, expanding Bachelor of Education programmes and Private sector involvement in education are all current issues which had been discussed by Prof. Jayasuriya in his publications. In discussing the British period in Sri Lanka in retrospect he discusses many dualities that existed in the school system at that time.
Regarding English language education he states that "compulsory English for all children in and above grade 11 is one of the greatest deceptions perpetrated on the people of this country". He cites two reasons to justify his stand. About 20 -25% of schools never had a single teacher for English and secondly the calibre of the teachers recruited to teach English was 'substandard'. Regarding free education, he says through his writings that "education became indeed free for all, but what was free was a good education for the few and a bad education for the many". These statements are valid for the present as well. Hence Prof. Jayasuriya is truly a visionary educationist and his insights should guide the present policy makers.
(The writer is a Senior Professor and Director of the National Education Research and Evaluation Centre of the University of Colombo)
Annual Memorial Oration
On February 14th Prof. Savitri Goonesekere will deliver the Annual Memorial Oration at the Sri Lanka Foundation Institute at 5 00 p.m.