---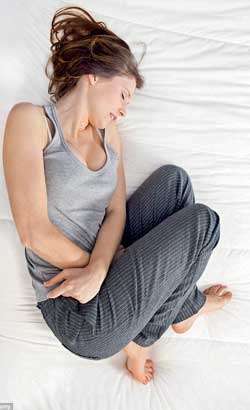 It's difficult to define exactly what a heavy period is because it varies from woman to woman. Heavy for one woman may be normal for another. Some women, who feel they have heavy periods, actually have an average blood loss. Some women who feel they have normal periods actually have a heavy loss of blood. Most of the blood loss usually occurs during the first three days of this condition where the blood loss can be either normal or heavy.
We spoke to Dr. Kanishke Samaranayake, MBBS MD (OBS & GYN) MRCOG (UK) MSLCOG, Fellowship in Gyne laporoscopy( Akola) and Consultant Obstetrician & Gynaecologist DGH from Nawalapitiya to probe deep into this condition for the benefit of our readers.

Heavy menstrual bleeding is defined as losing 80ml or more during each period or the periods lasting for longer than 7 days, in some cases or both.

A period is probably heavy if it causes one or more of the following: Restricts your normal lifestyle because of heavy bleeding, you need double sanitary protection (tampons and towels), there is soaking of bedclothes, you pass large blood clots and if you perceive that you have to change sanitary protection too frequently.

Reasons for having heavy periods

Most of the time the cause is unknown for this condition. We call it dysfunctional bleeding and is probably something to do with the lack of the eggs maturing.
Others may be due to the following causes.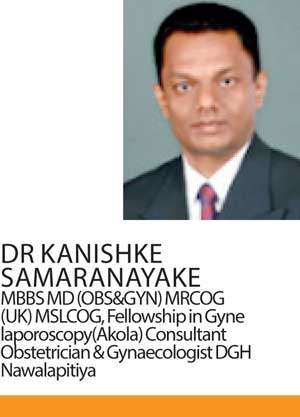 Causes connected with the womb

fibroids - These are non-cancerous (benign) growths in the muscle of the womb. They often cause no problems, but sometimes cause symptoms such as heavy periods.

Endometriosis – This is when the tissue that lines the womb (endometrium) is found outside the womb, such as in the ovaries and fallopian tubes (although this is more likely to cause painful periods)

Adenomyosis – When the tissue from the womb lining becomes embedded in the wall of the womb it can also cause painful periods.

Endometrial polyps - Small fleshy lumps within the inner lining of the womb can cause this condition.

Cancer of the lining of the womb (endometrial cancer)

Causes outside the womb

Hormonal problems for which examples are an underactive thyroid gland and uncontrolled Diabetes. There is also a condition call polycystic ovarian syndrome.
Infection in the lower abdomen (PID)
The intrauterine contraceptive device (IUCD, or coil)

Visit to the doctor

He will start by asking you about your heavy bleeding, if there are any changes to your periods and any other symptoms you have, like bleeding between your periods or period pain.

A doctor may want to do an internal (vaginal) examination to examine your neck of the womb (cervix) and also to assess the size and shape of your womb. However, an examination is not always necessary, especially in younger women who do not have any symptoms to suggest anything other than dysfunctional uterine bleeding.

The tests to be ordered

A blood test to check for anemia
Specific blood test .i.e. Thyroid function test
Internal swabs. This may be done if an infection is the suspected
An ultrasound scan

A hysteroscopy – A narrow telescope with a light and camera at the end is passed into the womb through the vagina to examine the inside of the womb.

Treatment available

Watchful waiting - Seeing how things go with no active treatment. This is an option if your periods do not interfere too much with normal life. You may be reassured that there is no serious cause for your heavy periods and you may be able to live with them

Medicines without hormones – Such as tranexamic acid or non-steroidal anti-inflammatory drugs (NSAIDS)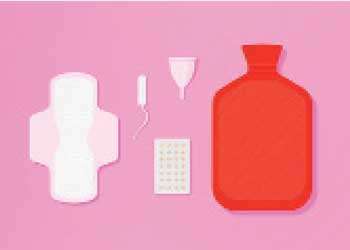 Intrauterine system (IUS) – A hormonal device placed in the womb that lasts for five years.

Medication - Tablets taken before and during periods, the combined oral contraceptive pill, or progestogens either as tablets or as a 3 monthly injection.
Endometrial ablation – A procedure to remove the lining of the womb.

Myomectomy – Surgery to remove fibroids

Uterine artery embolization – A procedure to shrink fibroids

Hysterectomy –Surgery to remove the womb is commonly done in Sri Lanka, but one should know that you can remove your womb through keyhole surgeries (Laparoscopy) without a huge scar on your lower belly.

Questions you have to ask yourself before choosing what's best for you

Do I want to take tablets? Will I remember to take them?
Do I need contraception at the same time?
Do I need a treatment that will help with period pain as well?
Do I need a long term or more short-term solution?
Do I have any medical problems that will influence my choice?
Will the treatment affect my fertility?

A wise decision is the key to success and always feel free to discuss matters with your doctor before deciding on what's best for you prior to making a commitment.