---
There was a mixologist crafting speciality cocktails, a dance floor packed with 40 of his closest mates and even a surprise burlesque show. But for Prince Harry, the highlight of his 30th birthday bash at Clarence House on September 17 was the arrival of one VIP guest: ex-girlfriend Cressida Bonas.
The pretty blonde socialite spent much of the party dancing at Harry's side, says a source: "It was a shock to some, but her being there made it such a special night for Harry."
Thanks to Bonas, the royal has enjoyed many red-letter evenings of late. For the past two weeks the pair, who ended their two-year romance in April, "have been speaking every night," says a royal insider. "They've decided to give their relationship another try." And for this go-round, the military pilot is taking a page from his big brother's playbook. In 2007, Prince William split from then-girlfriend Kate Middleton only to have a quick change of heart. Seven years later, Harry experienced the same aha moment about the 25-year-old actress. "They're picking up where they left off," says the insider. "Harry really wants to settle down."
Constant Contact
In the wake of their spring split, Harry was only interested in sowing his royal oats. A source says the former party boy "dated three different girls" in a five-month span. Bonas, meanwhile, marked her escape from la vida Windsor by doubling down on her burgeoning acting career. The dance-school grad - who, a source says, previously settled for an office job because she knew an onstage career wasn't the right look for a future royal - scored a part alongside Dame Judi Dench in the 2015 drama Tulip Fever.
But she stayed in touch with her former real-life costar. "She and Harry were in contact the whole time," says the royal insider. Even as Harry indulged in a few flings (remember ex-Miss Edinburgh Camilla Thurlow?), "he knew where his heart lay," says the insider. "You can try to forget about someone and move on, but if the love is still there, there's nothing you can do about it."
---
Duchess Cressie?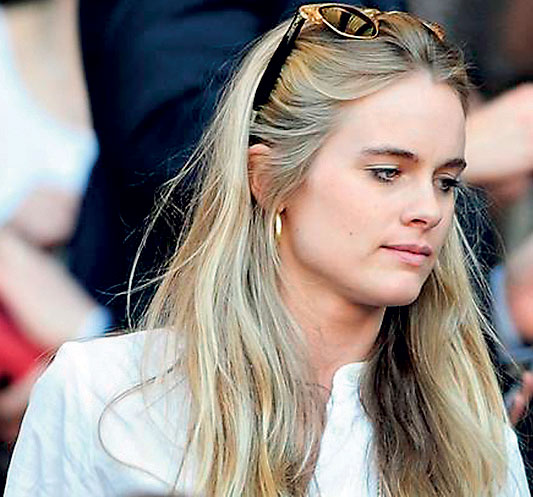 Since then, the duo have traded phone chats for pillow talk. A source says she bunked at his Kensington Palace pad September 13, and three nights later they caught a screening of the comedy Sex Tape at the nearby Odeon cinema. In between laughs, they made time for state-of-the-union conversations. "Harry's aware of Cress' fears about going further down the path of their relationship," says the insider. "But he's made it clear he will provide her as normal a future as possible." Even if her preferred normal includes red carpet premieres. Says the insider, "If she wants to pursue an acting career, he fully supports that." Though the insider predicts she may soon have to schedule auditions around cake tastings: "By this time next year, they'll be planning a wedding. Seriously."
---
Stepping in for Pregnant Kate


When severe morning sickness forced Duchess Kate, 32, to cancel her first solo royal tour in Malta, her husband did the honours. During the 2 day trip beginning September 20, Prince William visited with President Marie Louise Coleiro Preca (he told her that his 14-month-old son stayed behind because Malta "might not survive baby George - there's too many precious things!"). He also gave an update on his wife, due with their second child next spring, saying "Catherine was keen to come here."