---

"When Mr. Jayantha Dharmadasa took over as the new Chairman of the National Film Corporation recently, he told me that he wished to have me and Ravindra Randeniya in the director board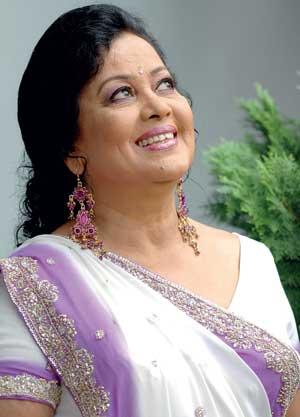 Malini Senehalatha Fonseka. She is the undisputed screen queen of Sinhala cinema and the biggest brand name in our cinema industry, having made colossal contributions as an internationally acclaimed actress, film producer and director. Her illustrious career in films surpassing 50 years is seen as the biggest and significant slice in the 73-year-old Sinhala cinema industry. Malini Fonseka who started her acting career in 1963 with the stage play 'Noratha Ratha', won the national award for the best stage actress in 1968 for her role in 'Akal Wessa'. The same year, Tissa Liyanasuriya chose her to play the key role in his movie 'Punchi Baba' opposite Joe Abeywickrema.
Having played the main role in 14 stage plays, Malini also became a huge brand name in films playing evergreen roles opposite almost all heroes of her time including Ananda Jayaratne, Joe Abeywickrema, Gamini Fonseka, Vijaya Kumaratunga, Tony Ranasinghe, Ravindra Randeniya, Robin Fernando, Tissa Wijesurendra, Sanath Gunathilaka and others.

In 1984 she became a movie director and a producer with "Sasara Chethana" and during this time Malini made her entry to the Television as well.

She has so far acted in about 160 movies of which four are international productions.
She also brought glory to her motherland by way of several noteworthy international awards.
Her name was recently linked to a controversy relating to an alleged outstanding payment to the National Film Corporation in which she was to be made a member of the Director Board.

Daily Mirror Life Impulse spoke to her to clarify these allegations and expose the real story behind such rumours.
"When Mr. Jayantha Dharmadasa took over as the new Chairman of the National Film Corporation recently, he told me that he wished to have me and Ravindra Randeniya in the director board to ensure a smooth functioning for the welfare of the Sinhala cinema. I was initially not keen to accept the position, but later realized that I could make some positive contribution for my industry. But later several issues emerged and I told Mr. Dharmadasa that I do not need positions to serve our cinema industry. I said I could be part of any committee and lend my support remotely in any forum aimed at developing our cinema. Then I heard Mr. Dharmadasa had written to the Ministry Secretary proposing Ravindra's and my names to the NFC Director Board. But I later learnt that the board members were appointed sans me.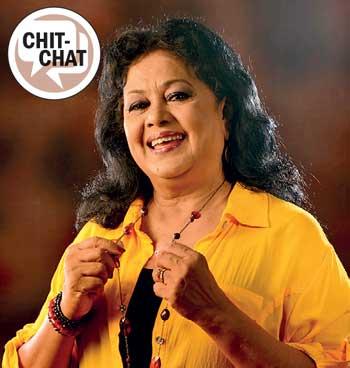 Q: Were you told about the reason for your omission?

What I heard was that some employees of the NFC had informed the Ministry Secretary that I owed the NFC some money with regard to a project initiated by the NFC several years ago. It was during the tenure of the late Tissa Abeysekara that he initiated a project to offer loans upto Rs. 5 million to seasoned film personalities in a bid to uplift the standard of our cinema. Initially Rs. 250,000 was given to each when the film script was submitted to the NFC. Dr. Lester James Peries, Roy de Silva, Jayantha Chandrasiri and other seniors took advantage of this move. I and Roy were the last to accept Rs. 250,000 after submitting our scripts. I got the Rs. 250,000 after I handed over my script, to go ahead with other related work. I went ahead with such work but unfortunately with the change of government, the entire project was shelved and we heard nothing about it since then.

Q: How did this issue emerge now after so many years?

Even I am at a loss to fathom how this surfaced when my name was proposed to the NFC director board. A few NFC staffers had brought to the notice of the Ministry Secretary about this outstanding amount, which had by then accumulated to about Rs. 370,000 with interest added on. The Ministry Secretary had been informed without consulting NFC Chairman Jayantha Dharmadasa. When I heard about it, I settled that amount and the NFC Finance division accepted that payment. I later inquired from my fellow film mate Palitha Silva about the similar loan he had obtained from this project. He told me that the NFC should in fact compensate us for the damages and injustice meted out to us by not continuing with that initiative. My name had apparently been rejected by the Ministry Secretary on this ground.

Q: There was another speculation that you still owed Rs. 400 to the NFC?

Well, even I came to know about it after a newspaper carried that news provided by some member of the NFC. But if you calculate the amounts that are due to the NFC from various persons, it would exceed Rs. 400 million. But a big hue and cry is created about this Rs. 400 which I am not aware of.

Q: Has this twist disheartened you in any way?

Not at all. I honestly I feel it is a blessing in disguise. But I have pledged Mr. Dharmadasa that I will do my best towards the welfare of our cinema by remaining outside and not holding on to positions. I am very well aware about Mr. Jayantha Dharmadasa's sincere desire to serve the Sinhala industry and bring it to highest levels. For the respect I have for him and his candid vision I will certainly help him in such missions to uplift our cinema industry. But what bothers me is the people with ulterior motives within the NFC who are trying to scuttle its progress and why they are targeting me. I am not going to say anything more as a mark of respect for Mr. Dharmadasa. But I will write to the NFC about the unfair manner in which they recovered my money while there are some others who still owe the NFC.
"I have never let down my industry. We carried the full burden despite all odds. We faced all the problems and discussed with all governments in finding ways to uplift our movie industry."

Q: You have contributed for the welfare of cinema in several capacities?

I must tell you that our cinema industry is my life. I am here today because of my cinema industry for which we dedicated ourselves for more than five decades. But some people in the NFC just do an 8 to 5 job and go home in the evening locking up documents in their drawers.

Q: This reminds me how you fought for the rights of NFC employees when the authorities once wanted the NFC closed down, saying it served no purpose?

If you remember, I threatened to self-immolate myself in front of the NFC if they closed it down. But today I feel ashamed of taking such a stand to defend employees of this nature. But nothing can stop me from serving my industry, because this is my industry. When producers moved away from making films, I took a huge risk in the early eighties and made 'Sasara Chethana'. I got a loan from the Peoples' Bank and settled the loan up to the last cent, because the film did well at the box office. This actually motivated so many people to produce films and among them were my film world colleagues. Even Peoples' Bank started giving loans to filmmakers after the success of my film. We have made umpteen sacrifices for the welfare of our industry.

Q: Time and again our cinema industry has faced various turbulent times. You too played an active role in resolving such issues?

I have never let down my industry. We carried the full burden despite all odds. We faced all the problems and discussed with all governments in finding ways to uplift our movie industry. Some issues were resolved. We got tax free concessions due to the intervention of Mr. Mahinda Rajapaksa when he was President. But the next government slashed all those benefits. I must categorically state that after former President Ranasinghe Premadasa, it was Mr. Mahinda Rajapaksa who worked towards the welfare of artistes in this country. Some may criticise or find fault with such leaders, but facts are stubborn.

Q: Will you accept a fresh invitation to the NFC Board?

I don't think I will, but I will not hesitate to do my best and support NFC Chairman Jayantha Dharmadasa's missions aimed at uplifting our cinema industry.
Text: Ramesh Uvais