---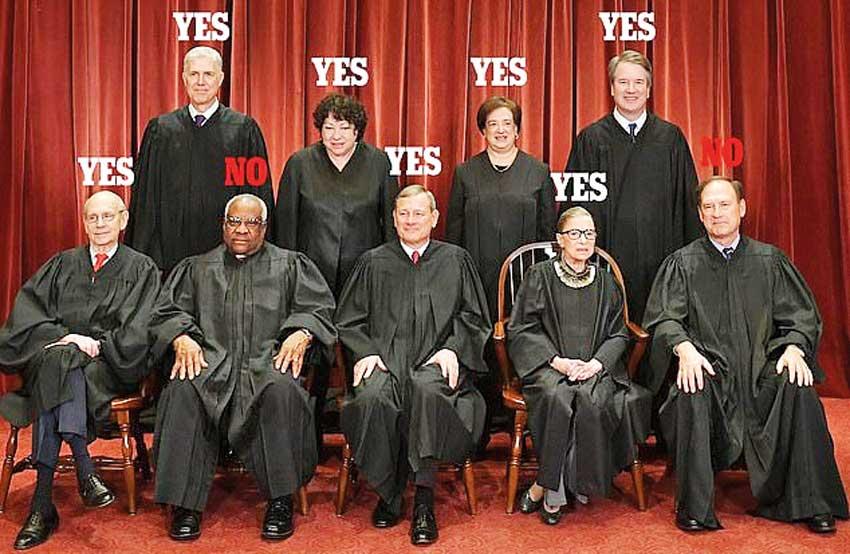 Donald Trump rage tweeted 'NOT FAIR!' Thursday as the Supreme Court ruled 7-2 that he cannot claim immunity to stop his tax returns being obtained by prosecutors.

The justices dealt a stunning blow Trump by ruling that he cannot claim immunity from all investigation to stop his bank and his accountants from handing over the tax returns going back to 2011 that Vance had demanded as part of his probe into possible hush money to Stormy Daniels.

The court ruled 7-2 that Trump is not immune as president from subpoenas, in an opinion that tested both the power of local prosecutors and Congress to obtain information.

Chief Justice John Roberts wrote the opinion; the two who dissented were Clarence Thomas and Samuel Alito, meaning the justices Trump appointed - Neil Gorsuch and Brett Kavanaugh ruled against him.

Trump immediately reacted by slamming the justices and claiming he was being singled out by them tweeting: 'Courts in the past have given 'broad deference'. BUT NOT ME!'
His personal attorney Jay Sekulow said the president would fight on with new 'constitutional' arguments to attempt to keep his returns secret.

But Neal Katyal, one of Obama's solicitors-general, said he believed the case would proceed rapidly and was 'scary for Trump.'

The Supreme Court rejected arguments by Trump's lawyers and the Justice Department that the president is immune from investigation while he holds office or that a prosecutor must show a greater need than normal to obtain the records of a president.

But the Supreme Court did not agree and handed Trump the defeat in a politically-consequential case on the last day of its term, wrapping up a session where Trump scored notable losses at the Roberts Court.

Nancy Pelosi, the Democratic House Speaker, crowed after the ruling that Trump's own judges had turned against him.
US, (Daily Mail),
9 July 2020 -