---
REUTERS, 2 August 2017 - Prime Minister Benjamin Netanyahu stopped an Israeli lawmaker from taking on a Jordanian counterpart in a fist-fight on Wednesday over a diplomatic crisis between the two neighbours.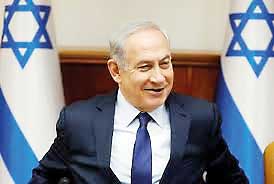 Oren Hazan, a member of Netanyahu's rightist Likud party had tweeted on the day of the shooting that Jordanians "who we keep supplied with water and whose butts we defend day and night" needed "re-education".

His comments prompted a challenge from a similarly fiery lawmaker in Jordan. "Let him meet me, if he is a man," Yahya Soud said on Twitter.

As the appointed time neared, both men posted images of themselves on social media driving to the King Hussein/Allenby Bridge crossing between Jordan and the Israeli-occupied West Bank.

But Hazan's journey was cut short after Netanyahu's office ordered him to turn around. A statement from the prime minister's office did not say why Netanyahu had stopped the fight from proceeding.
In 1994, Jordan became the second of only two Arab countries to make peace with Israel.