---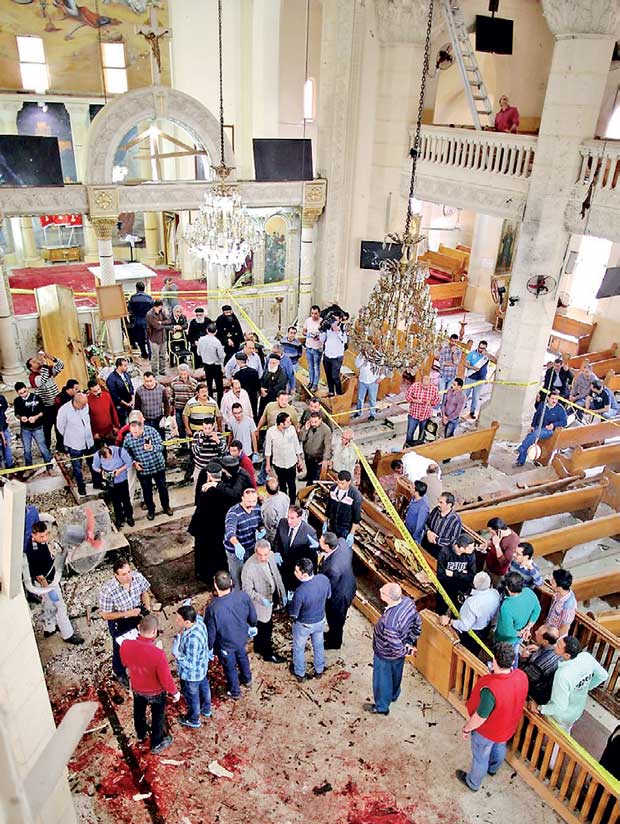 ISIS claimed responsibility for the bomb attacks on two Coptic churches in Egypt on Palm Sunday (09.04.2017) via its Aamaq news agency, after having recently warned it would step up violence against Egypt's Christians.

The first blast ripped through a Palm Sunday service at St. George's Church in Tanta, killing at least 27 and wounding 78 others, while CCTV showed a fanatic, dressed in a blue pullover, approaching the gate at St Mark's in Alexandria but being told to go through the metal detector first by officers.
He then passes a female police officer talking to another woman, and enters a metal detector when an explosion engulfs the area.

The attack is suspected to have been aimed at Pope Tawadros II, leader of the ancient Coptic church, who was worshipping in St Mark's at the time but escaped unharmed.The bombings added to fears that Islamic extremists who have long been battling security forces in the Sinai Peninsula are shifting their focus to civilians.

An ISIS affiliate claimed a December suicide bombing at a Cairo church that killed about 30 people, mostly women, as well as a string of killings in the northern Sinai that caused hundreds of Christians to flee. CNN reported Coptic Christians make up about 10% of Egypt's population of 91 million. They base their theology on the teachings of the apostle Mark, who introduced Christianity to Egypt.
Grand Sheikh Ahmed el-Tayeb, head of Egypt's Al-Azhar -the leading centre of learning in Sunni Islam- condemned the attacks.
CAIRO, (Daily Mail/CNN). 09.04.2017