---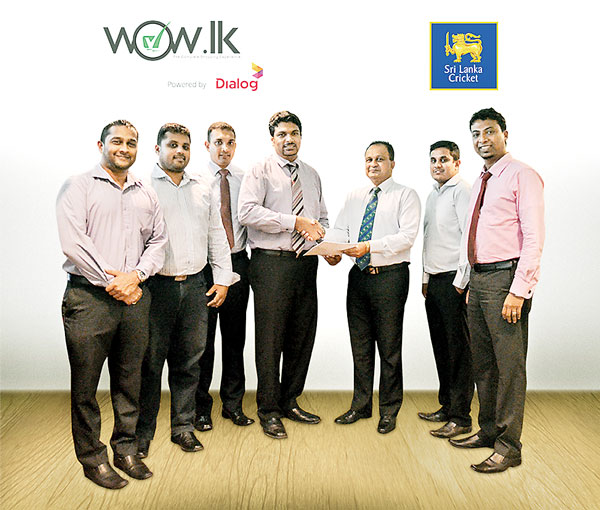 From left: Senior Manager Customer Experience Shennon Ashan Perera, Head of Information Technology Mohamed Shamly Faleel, COO Rakitha Welagedera, CEO Sheyantha Abeykoon, SLC CEO Ashley De Silva, Executive Management Information Systems Sachira Ranaweera and Nadeeshan Suriyaarchchi



wOw.lk, Sri Lanka's premier e-commerce site, recently entered into an agreement with Sri Lanka Cricket to exclusively manage and operate an online ticketing portal for all international cricket matches hosted in Sri Lanka.


From October 9, 2015 onwards, all tickets for matches in Sri Lanka, have been available online on www.wow.lk/srilankacricket and www.srilankacricket.lk. wOw.lk is owned and operated by Digital Commerce Lanka (Pvt.) Ltd, a wholly owned subsidiary of Dialog Axiata PLC, the principle sponsor of Sri Lanka Cricket.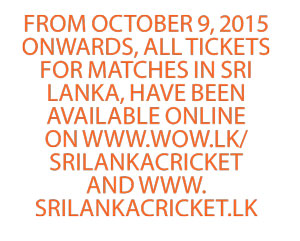 Commenting on this agreement, Sri Lanka Cricket Chief Executive Officer Ashley De Silva opined, "Providing convenient and digital access mediums for our local fan base has always been a priority on the road map for us. We are very pleased to solicit the services of wOw.lk, a leader in this domain and part of the Dialog Axiata group to provide us with a hassle-free online solution for cricket fans, which enables them to conveniently purchase tickets."
Since its inception in 1975 as a national sports body, Sri Lanka Cricket has been the governing authority of the game in the country. Operating under the mandate of the Sports Ministry, Sri Lanka Cricket continuously strives to ensure the overall development of the game, at a grassroots and international level. All national and international cricket matches that are played in Sri Lanka come under the purview of Sri Lanka Cricket and all online purchases will now be redirected to the wOw.lk website.

Commenting on the partnership, Sheyantha Abeykoon, Chief Executive Officer of Digital Commerce Lanka (Pvt.) Ltd, the company that owns and operates wOw.lk, stated, "This is a watershed moment for the company as we partner and institution like Sri Lanka Cricket in providing an online seamless ticket booking process for cricket fans across the country. With this partnership, we'll be able to make tickets more accessible and we will also be able to make the purchasing process easier and more convenient for cricket fans. We see it as a pivotal part of our journey in trying to digitally enhance the lives of Sri Lankans across the country."

wOw.lk continuously evolves and initiates partnerships and special offers that meet the varied needs of the local online community. The website has been at the forefront of e-commerce innovation in Sri Lanka since its inception and continues to deliver a convenient virtual shopping experience to customers, providing them with a variety of affordable products and services. Backed by Dialog Axiata, Sri Lanka's largest telecommunications service provider, wOw.lk is now one of the largest and most reputed e-commerce sites in the country.