---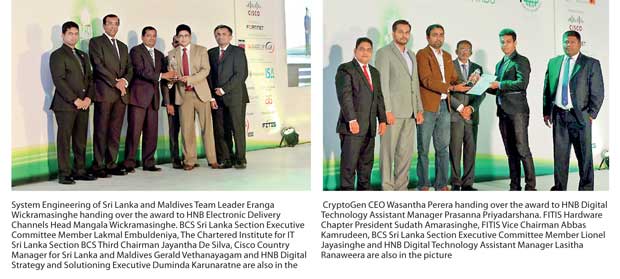 Sri Lanka's most digitally innovative bank, HNB PLC, extended its remarkable winning legacy in 2017, receiving two awards at the recently concluded 19th annual National Best Quality Software Awards 2017 (NBQSA) 2017.

Serving as a nation-wide platform for showcasing of Sri Lanka's most pioneering ICT products, the NBQSA Awards is organized by the British Computer Society (BCS), the awards with the goal of recognizing outstanding contributions to the development of ICT in Sri Lanka while simultaneously opening a path for such products to enter international markets.

During the lavish ceremony hosted at the Taj Samudra, Colombo, the bank's breakthrough HNB Smart Pay card won the Bronze Award for Inclusion and Community while also taking the Merit Award for Research and Development in recognition of the bank's groundbreaking new mobile application, HNB FIT.

"HNB takes great pride in our recent performance at the NBQSA Awards 2017. Moving forward we anticipate an even stronger performance at these awards as HNB continues to innovate and pioneer new methods of enhancing the overall customer experience, and delivering an unprecedented new level of service and convenience leveraging new technological breakthroughs that will serve to elevate Sri Lanka's position in Asia and across the globe," HNB Electronic Delivery Channels Head Mangala Wickramasinghe stated.

HNB Smart Pay is a breakthrough near-field communication (NFC) proprietary debit card that is designed by the bank to completely streamline payments and attendance recording for schools. Equipped with a RFID chip which can record details of each student, the card can only be used for transactions at authorized vendors, providing parents with improved visibility and control over their children's spending habits, while providing a new generation with their first personal experience of cashless payments.

In addition to the recognition it has received so far at the NBQSA Awards 2017, HNB Smart Pay has also been nominated for the Asia Pacific ICT Awards 2017(APICTA).

Similarly, HNB FIT is a savings product that is being designed to pair with wearable fitness devices in order to provide customers with increased savings interest that is tied to the number of steps they 'walk' each day, as part of a pioneering initiative from HNB to support and incentivize their customers to stay fit and healthy, while saving more each day.