---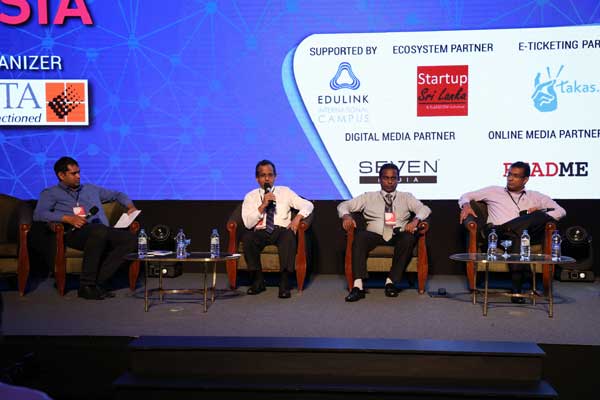 PayMedia Founder Kanishka Weeramunda, National Development Bank COO Rohan Muttiah, LankaClear CEO Channa De Silva, LOLC Group CIO and LOLC Technologies CEO Conrad Dias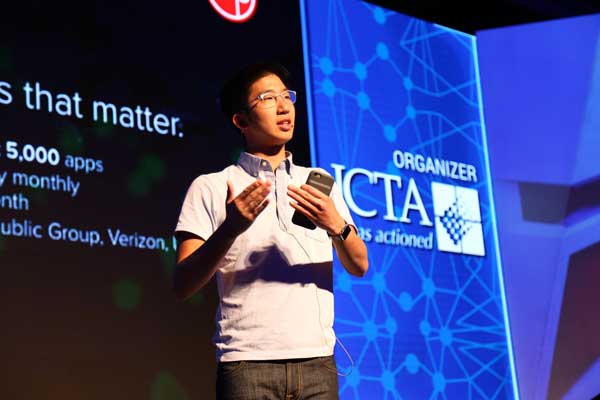 Kiip Founder and CEO Brain Wong ​
Disrupt Asia, supported and organised by the ICT Agency of Sri Lanka in partnership with Edulink International Campus, Angel Labs, Crowd Island, Lankan Angel Network, StartUp Sri Lanka, Seven Media, Readme, Takas.lk, Arimac and Shoutout, was held at Hilton Colombo recently, featuring a number of events, including a conference, investor workshop, tech showcase, start-up battles and a networking session.

Start-up Battle Voltage230 was powered by Readme, LOLC and Hutch. Meanwhile, the Slingshot Start-up Battle was powered by Hemas, while John Keells X was powered by SGIT and JKCS.
The first of its kind event to be held in Sri Lanka saw a gathering of the start-up ecosystem of Sri Lanka including investors, mentors, government agencies, the media and a plethora of start-ups representing various industries.
Conference

A number of Silicon Valley experts and key Sri Lankan thought leaders were featured as speakers throughout the day. The morning keynote titled 'The Rise of the Start-ups' was presented by Startup Compass COO JF Gauthir, while the evening keynote was delivered by mobile advertising network Kiip Co-Founder and CEO Brian Wong. The chief guest at the event was Telecommunication and Digital Infrastructure Minister Harin Fernando.

The local line-up of speakers included ICTA CEO Muhunthan Canagey, Business Coach and Entrepreneur Fayaz Hudah, Cinergix CEO Chandika Jayasundara, Calcey Co-Founder and CEO Mangala Karunaratne, ICTA Director of Projects Arunesh Peter, Creately Co-Founder and CTO Hiraash Thawfeek, PayMedia Founder Kanishka Weeramunda, SurgeViral Founder Bhanuka Harishchandra, WSO2 Writer/Marketer Yudhanjaya Wijeratne and many more.
Investor Forum

The ICT Agency of Sri Lanka in partnership with the US Embassy also brought down Silicon Valley investors along with Angel Labs for a full-day workshop dedicated to high-net-worth individuals. The event was supported by Crowd Island and the Lankan Angel Network (LAN).

Sheel Tyle (investments in SnapDeal&Pinterest) from NEA addressed the audience on best practices in seed stage investments and how to become a limited partner in a fund.

Arteen Arabshahi (investments in Gyft acquired by First Data Corporation) of Karlin Asset Management provided a comprehensive understanding of Venture Capital investing including how to develop an investment thesis, build a portfolio strategy and pick the winners.
Tugce Ergul of Angel Labs spoke on the mechanics of angel investing including building a proprietary deal flow, deal negotiation and how to add value as an angel investor.
Tech showcase

Meanwhile, 35 tech start-ups got the opportunity to exhibit their innovative products and solutions to 60 potential investors. This was the biggest showcase of tech start-ups to date. The products and solutions exhibited focused on multiple verticals including healthcare, travel and tourism, retail and education. Augmented reality, Internet of Things, embedded systems, payment gateways, social networks were some of the underlying technology concepts of the exhibits.
Start-up Battles
Exhibiting start-ups got to pitch at the start-up battles. Voltage 230 was powered by Readme, LOLC and Hutch. Slingshot Startup battle was powered by Hemas while John Keells X was powered by SGIT and JKCS.