---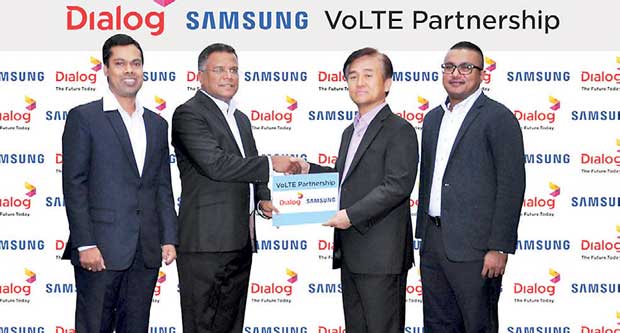 Dialog Axiata's Group Chief Technology, Pradeep De Almeida handing over the VoLTE partnership agreement to Youngmin Shin, Managing Director of Samsung Sri Lanka (at the center). Also in the picture are Asanga Priyadarshana, Head of Mobile Business of Dialog Axiata and Nigel Adams, Head of Marketing for Samsung Sri Lanka.
Dialog Axiata joined hands with Samsung Sri Lanka to enable Voice over Long-Term Evolution technology (VoLTE) for Samsung GalaxyJ5 and J72016smartphone users.
Dialog introduced VoLTE to Sri Lanka in August 2016, the first network in South Asia to do so, and the partnership with Samsung to activate this cutting-edge service on the J5 and J7 devices is yet another first by Sri Lanka's premier connectivity provider. The VoLTE service is compatible with J5 and J7 2016 models that are purchased through Samsung's authorised channels.
VoLTE exhibits several distinctive features including instant call set-up, HD/Near-Stereo voice quality and extended services such as the ability to share audio content including live music over voice calls. Customers can also make voice or video calls over VoLTE, whilst simultaneously using 4G LTE data. The VoLTE service is available across Dialog's mobile 4G LTE network in Sri Lanka which spans over 1,000 LTE sites in all 25 Districts.
"Dialog is privileged to join hands with Samsung, to be the first to present next-generation technology of end-to-end IP-based voice communications to Sri Lankan customers. Dialog operates the country's widest mobile 4G LTE network, and our customers can enjoy superior call quality alongside a host of value-additions that will enhance their communications experience." states Asanga Priyadarshana, Head of Mobile Business for Dialog Axiata.
The VoLTE service is available on selected Samsung devices initially but will be expanded later, confirms Youngmin Shin, Managing Director of Samsung Sri Lanka. The initiation of this service marks a unique breakthrough for Samsung Sri Lanka, he adds stating: "As always, Samsung is committed to ensuring cutting edge technology for our customers and this comes as a part of that pledge. The opportunity to offer such a ground breaking service to our customers in association with Dialog is yet another step in the right direction for us. We see it as a partnership between two leading brands forging a bond together to offer exceptional value addition to our customers."
Dialog has been at the forefront of innovation in the mobile industry in Sri Lanka as well as in the region, propelling the nation's mobile telephony infrastructure to a level of advancement on par with the developed world. The company holds the distinction of being the first service provider in South Asia to launch 3G and HSPA+ services, before launching South Asia's first commercial mobile 4G LTE service in 2013. Dialog established yet another milestone in 2016, with South Asia's first-ever 4.5G demonstration featuring download speeds in excess of 1Gbps (Gigabits per Second).