---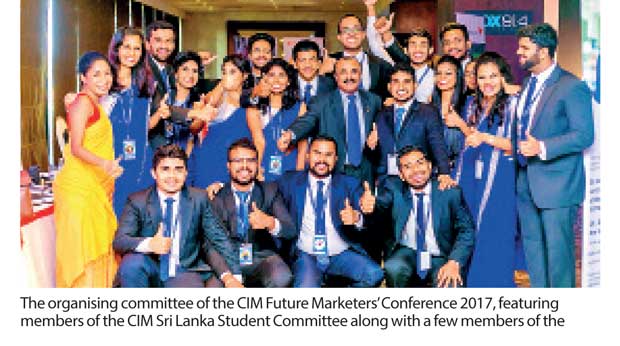 The CIM Future Marketers' Conference 2017 concluded with the most exceptional and the most gracious success that was anticipated.

The conference was organised by the CIM Sri Lanka Student Committee and it was revolved around one of the hottest topics in the local context, 'New Ventures'. The timely topic was selected through extensive and effective research and it was evident that the topic was covered in the most relevant varieties by the facilitators at the event.

Laugfs Holdings Founder W.K.H. Wegapitiya was the opening speaker for the conference. He began the conversation by talking about the importance of owning an idea, prior to execution. The importance of strategic thinking and mastering the doctrine seems to be one of the greatest life hacks he has mastered.

Talking about the favourable ways of managing stakeholders, and converting opposers to supporters, the legendary Tony Weerasinghe brought in a line of stories to showcase how he has overcome some of the greatest challenges in establishing his ventures and how he had his eyes on the ultimate goal and made his venture one of the most competent establishments in the world, by having all hands on deck. Jeevan Gnanam gracing the conference explained how well he had managed his legacy by expanding it to the most prominent horizons of the industries he operates in. Jeevan who shared his insights along with his knowledge brought the shade of capital to the context of marketing.

All the facilitators made this conference a personal forum. They were able to connect to the audience with many of the participants questioning and inquiring to resolve their doubts. Triad Founder Varuni Amunugama Fernando shared her part of the story in becoming effective tracers to trail KPIs. She spoke about how Derana became one of the most authentic TV Channels in the country by relating to the audience and how their success was measured by the influence they made as an entity. She ended with a strong notion to say, success is not always measured, it sometimes is felt, her story captivated many people to go beyond the money and to support a cause.