---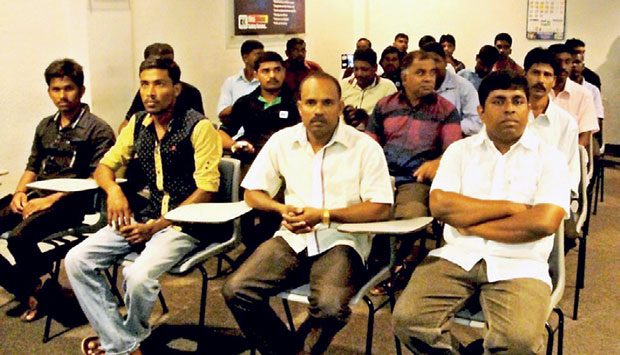 Kelani Cables PLC, Sri Lanka's number one brand in secure electrical and communication cables provided knowledge in electrical wire manufacturing to over 50 electrical technicians of Kilinochchi recently.
These electrical technicians were provided transport and accommodations by Kelani Cables PLC to travel from Kilinochchi and return to their hometown. Once in Colombo they were taken to two mammoth Kelani Cables factories in Kelaniya and Siyambalape and provided comprehensive knowledge in manufacturing various types of wires. Further a senior engineer of Kelani Cables PLC conducted a workshop to upgrade their knowledge with newest methods in electrical technical sphere.
Kelani Cables PLC in association with the Commercial Bank opened bank accounts for these electrical technicians and educated them to save what they earn from their profession.
Kelani Cables PLC Zonal Sales Manager K A Raj Kumar, Sales Manager (Distribution) Chaaminda Waidyatilleke and Sales Controller Ralph Roshan on doing a research in Kilinochchi have found out electrical technicians in the vicinity having minimal knowledge in electrical wire manufacturing process. Thus the team has decided to bring these technicians to Colombo and offer them the chance to witness wire manufacturing processes.
Anil Munasinghe, General Manager Sales, Kelani Cables PLC commented, "Our Company via 'Kelani Visura' CSR program provides knowledge to electrical technicians on an island wide basis. Already nearly 20,000 electrical technicians have obtained 'Kelani Visura' memberships. They with their family members enjoy benefits of 'Kalani Visura' throughout the year. However this is the first time we entertained electrical technicians at our factories with the object of letting them see electrical wire processing".
The General Manager, sales added, "When we communicated with these electrical technicians we got to know they have very little knowledge in wires though they have been working in the sector for many years. They lacked knowledge in how to select wires with quality, what goes into the manufacturing process as raw material and tactics to safeguard wires. Thus we offered them this opportunity to visit our factories to witness wire manufacturing process. We intend to provide this opportunity to electrical technicians all over the country. We took steps to open bank accounts for these electrical technicians of Kilinochchi with the support of the Commercial Bank."
Kelani Cables PLC is a one hundred percent Sri Lankan company serving the nation for 47 years manufacturing electrical and communication cables. The company achieved "Super Brands" status in the electrical and telecommunication sector in 2008 for professional supremacy it demonstrated in the electrical and communication cables sphere.