---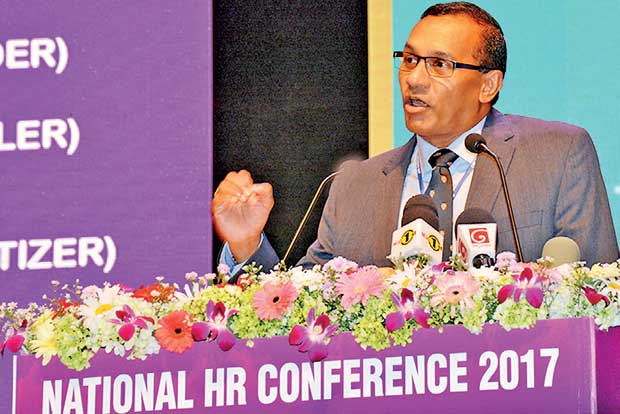 Global Strategic Sustainability (Pvt.) Ltd Chairman/CEO Dr. Ravi Fernando
By Zahara Zuhair
Cautioning that extreme weather conditions would disturb the supply chains of the companies from production to packaging in the years to come, Global Strategic Sustainability (Pvt) Ltd Chairman/CEO Dr. Ravi Fernando stressed that every company should be sensitised in order to face the impending climate changes.
"How many companies that are here have sensitised their management team, their top level team to the impending challenge and risks that the climate change is going to bring about in Sri Lanka, whether its drought, rain fall or different temperature, each of those are going to have an impact on the supply chain. I believe it is your job to sensitise the company to impending challenges" he said.
"I was doing some interesting research in terms of Sri Lanka's rain fall. The reason I'm talking about rain fall is because we have yet reasonable agriculture and plantation industry. So in 2015, Sri Lanka had in the up country region 197 days of rain, in 2016 this figure went down to 157 days of rain, which is 40 days less rain. If the plantations are to succeed in another few years we are going to have a massive problem in the rain fall,"
he said.
A recent report of the U.N Food and Agriculture Organization (FAO) and World Food Programme (WFP) said that production of rice is forecast to drop almost 40 percent to 2.7 million tonnes in 2017, due to the recent drought followed by floods that slashed local agriculture production where other crops such as pulses, chillies and onion had also expected to take a blow.
Rather than being reactive such as relocating people and relocating plants to sort the issues, he said that companies should take pro-active measures to meet these challenges.
"Talking to one of the people in a company, he said last year they had 6 feet of water in the factory, and this year it was reduced to 4 feet. But what if they had taken few steps to make sure there was no water at all this year? The organisations have to be sensitised to the climate changes. Whether you like or not, the last three years have been the hottest three years on the planet, and this year is would be worse," he said.
"These extreme weather conditions are going to be pathetic year-on-year. Most of the supply chains will begin to get disturbed from production to packaging to processing to logistics," he said.
"To move from a commodity exporting country, Sri Lanka should leverage on three strategies which are; its natural resources, geographical location and human resources" Dr. Fernando said. "Since independence, 97 percent of our exports are in commodity form. Why we have to be a commodity exporting nation. If you bring these three together the country has a national strategy," he said.
Dr. Fernando, who is also the France INSTEAD Business School Executive in Residence, made these remarks delivering the key-note speech at the IPM National HR Conference 2017 inauguration ceremony held last week.
"I was deeply involved in building the 11th Malaysia Plan, 2016-2020, that will help Malaysia to be an advanced nation. Now why is that we don't build talent who can take Sri Lanka from a commodity nation to a significant value added high tech nation?" he asked. "Is it because we don't have the natural resources? No, we do. We have some of the best natural resources in the planet. We are the ninth largest titanium resource in the world, we have the most pure graphite on the planet. What have we done to this, besides export in gunny bags?" he said.
He said that it is important to build a global mind to the local talents the country has, as the young talents must be placed in global markets to get international exposure in order to learn real world business.
"Let me tell you about most of the times I talk to senior directors in Sri Lanka. I find them engrossed in delivering next month's results, and the quality time these ladies and gentlemen can spend on the strategic direction of the company is far" he said. "What I find in leadership positions, most of them are engaged in what we call the Chief Financial Officer (CFO) which are chief follow up officers, and that's a very sad situation. They need to try to figure out how to develop strategies for the future".
"If you want to build global mind sets, these young talents must be placed and must live in these places, which is the only way you can build that exposure. Otherwise, it would only be people who work in airways, who'd be getting global exposure," he said. "So in terms of building, I want to challenge everyone in the HR fraternity in Sri Lanka. How would you give them true global exposure through international presence? We need to build global challenges- that is what is going to unleash Sri Lanka's true potential" he said.
To attract millennials, he said that the companies should showcase a clear purpose and vision rather than advertising the perks they offer. When it comes to the geographical location, he said that Sri Lanka is well placed in the Silk route.
Noting that it is important to embed technology and new concepts to businesses, he talked about how Artificial Intelligence would change the global competitiveness of the businesses. He said that Sri Lanka should embrace AI and mobilising to their companies, otherwise Sri Lanka would be left behind.
"In next 30-40 years you will see massive inflexion in terms of AI to help companies by synchronising and analysing big data. So, decision making will become more profound, knowledge driven and fact driven" he said. "World's four biggest companies, Apple, Google, Amazon, and Facebook replacing famous oil companies to be leading companies. Every one of them have already mobilized Artificial Intelligence" he said.
He said that already an Indian company let go 6,000 jobs by installing AI.
He also said that installing commercial 3D printers for sectors such as apparel and also nanotechnology would make a difference
in businesses.