---

Former President of Maldives, currently in exile and stationed in Colombo, Mohamed Nasheed in a candid interview with the Daily mirror insisted that the current President must step down in order to resolve the ongoing political turmoil the country is engulfed in.
On the night of my exile Sri Lankan Ministers were in Male
I have the ground support of my people
China seems to support autocratic Governments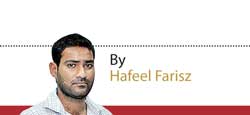 QPresident Nasheed, to start off with, in December 2011 there was a political crisis in which the former Chief Justice was arrested under your leadership. How do you see today's crisis in the light of the then turmoil?

Thank you very much. In 2011, it wasn't the former Chief Justice. In 2010 we came up with the new Judiciary. In 2008 we established a new Constitution which called for the establishment of the three branches of the Government: The Judiciary, the Legislature and the Executive. But unfortunately we were only able to set up the Supreme Court and the High Court. The Lower Courts were transferred en masse from the previous judiciary. So at that time there were differences regarding a Judge in the Criminal Court who was then removed from office by the Judicial Services Commission, but he continued to come to office, but there was some difficulty there. But what is happening now is President Yameen has arrested the Chief Justice, another Supreme Court justice and the Judicial administrator. And President Yameen has also imposed emergency rule, curtailed a number of rights in the Constitution and he has effectively overrun the state and imposed marshal law. He has also arrested former President Maumoon Abdul Gayoom, who is his own brother, and he has also arrested his own nephew. He has also arrested the husband of his niece. This is apart from the other political leaders and the members of his own party he has arrested. So he has not only purged his own party, he has gone ahead and arrested members of his family, imposed emergency rule and has arrested a number of Judges, including the Chief Justice. He has also intimidated a Private Media Channel and forced its closure.

QPresident Nasheed, I need to take you back to what led to this current turmoil. According to you what was the catalyst which escalated to what we are seeing today.?

The elections in 2013 itself were questionable. But we relented and President Yameen was sworn in. He was sworn in an alliance, which included the Jumhuri Party- led by the Hon. Cassim- and also the religious party Adalath. These parties came together. But as soon as President Yameen took over power he marginalised Hon, Cassim, the Adalath Party and President Gayoom. All of them left President Yameen.

Whilst that was happening he started purging his own party. He first arrested his own Defence Minister and framed him. Then he went on to arrest me and every single other opposition leader. That created a necessity for the Opposition to come together. So when we came together and the injustices were observed by the International Community, especially the United Nations Working Group on Arbitrary Detention, the ICJ, and much of the legal fraternity in the world, including NGOs from Sri Lanka including the Government of Sri Lanka, said that the charges were politically motivated and the trials along with the sentences were also wrong. They were asked to reverse the sentences, but President Yameen refused. Finally the Supreme Court hearing the views of all these quarters decided to reverse the sentences.
During the past 4 years we have had 23 unresolved murders. They haven't been unresolved. The Deep State identified their foes, who are free thinkers, ordinary bloggers and mainly young people

QPresident Nasheed, you take us back to two pertinent points. One is that you listed down these various international organisations. But there is a notion that locally, you don't have the support you claim to have and that you have been puffed up by the International Community instead. How do you respond to this? Do you actually have on the ground support?

We started a political party whilst I was in exile. This was around 2005-2006. We were able to galvanise our people into political activism and we won the elections in 2008. When we came to 2013 we were voted in as the single biggest political party with 47% of the votes. After that, very recently, in fact a few months back, we had our local council elections which we won handsomely. It was a landslide victory for us. I think its' very obvious where the support lies. So it is a little confusing why anyone would want to read election results otherwise and try to come to an analysis or understanding that we don't have the support in Maldives. There is brute force. We are suppressed and we are unable to show our strength at home.

QTo take you back, you were charged and convicted with offences related to terrorism. You were released from prison for medication and now you are in exile. Can you recall the circumstances which led to this?

Well, the Government of Sri Lanka for instance, after my arrest, together with a number of other governments robustly engaged with the Maldivian Government. Especially, given the fact that the International Legal bodies ruled that my arrest was politically motivated, many people felt that they had a moral obligation to intervene. So those interventions led to the decision by President Yameen to release me for medication. But it was very obvious when he let me out that there was a clear understanding in the Government that I was going to be in exile.

QHow did that happen?

Well on that night your ministers were in Male.

QWho were they?

Your Foreign Minister and Your Finance Minister

QOne question that crops up in our minds is whether this experiment of democracy has failed in the Maldives?

Democracy is a process and the people of Sri Lanka will very well understand that. This country (Sri Lanka) has far greater capacity in democratic institutions than we do. But we are in our infancy. And we are getting more and more confident in the democratic process each day.

For example the MDP is only 12 years old unlike your political parties. So this is going to take time. We haven't succeeded as much as we would have liked to. But I woudn't term it as a failure. The democratic gains we have had post 2008 have not slipped to say 1970s standards. So yes we are improving.

QPresident Nasheed this question is about the international community. You have called for India to act as 'liberators' and on the other side you have China and this power struggle between these two powers. Where do you fit in? How do you see this play out?

We are in the Indian Ocean. We are ocean people. We need both safety and security for our countries and the Indian Ocean as well. It is very clear that to achieve this it is fundamental that we have democratic governance. Dictatorship and autocracy hollow out the State. It leads you into bad projects. It leads you into debt traps. It opens you up to land grabs by other Governments.

QHow uncomfortable are you in joining forces with President Maumoon Gayoom, whom you fought against and who is the half brother of the current President?

During the past15 to 20 years we have learned a lot. The Maldives have had so many experiences. These are experiences that other countries took 50 years to have. And I think all of us have a combining interest including President Gayoom. Our combining interest is democracy. We want to have a free and fair election.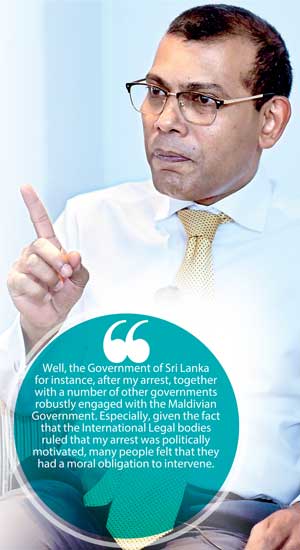 QBut isn't it ironic that President Gayoom is now on the side of holding a free and fair election, when he was accused by you of being a despot or a dictator?

Yes President Gayoom ruled with a single party and at that time we had a constitution which didn't allow for multi party politics. I would credit President Gayoom for facilitating multi party politics in the Maldives. The reformed road map by President Gayoom finally bought us toward free and fair elections and multi party politics. Now I would like to look towards the future.

Yes we have to gain experience from the past, but we must work for generations to come and not for what was in the past. So I think we must work in unity having understood the commonalities between us and see that we have free and fair elections.

QPresident Nasheed, the role of China in the current crisis has come into question. I don't know if you are able to say this in public or if you agree with me, but China has at least on the face of it sided with President Yameen. What importance does China's role play in all of this?

I am very candid in my views. China seems to support autocratic Governments and China has a number of projects in the Maldives. Once dictatorship is established and strengthened they start getting projects without a proper tendering process, without transparency and without democratic oversight. So these projects very often become vanity projects. You have roads leading to nowhere, you have harbours and airports that cant be used. All you are left with is a huge debt. Even now over 70% of our foreign debts is owed to a single country- China. And these are commercial loans, they either come from supplier credit or Exim Bank. So there are commercial interest rates and they are mostly infrastructure projects. You can't turn them around enough to be able to service the debt and you end up in a debt trap. Once you are in it, they leverage- the debt is used as a disciplining regime. Of course I understand that there is this difficulty, but we want to see direct foreign investment by the Chinese. We aren't against that. We are a centre right party and we want a market economy to function. But we have to have a proper tendering process, democratic oversight and transparency. The absence of those contracts creates drivers for land grab.

QDo you think that as a former President and someone who has been in control of a State in the Indian Ocean, that Sri Lanka has also fallen or is falling into this trap you described?

Well I must focus on The Maldives.

QWith regard to The Maldives, from here on wards, how do you see the current crisis really unfolding?

President Yameen has to go. He has to step down. And we must install an interim arrangement that would lead us to a Unity Government and thereafter an inclusive and free and fair election at the end of the year.

QDo you think the atmosphere is conducive for it? The latest reports suggest that President Yameen isn't relenting and the Supreme Court has overturned its previous decision, which led to the current crisis, and the Police and the Military have sided with him.

Well a very small element of the Police and the Military are siding with him. The vast majority of The Maldives Military and Police aren't with the President. Of course, we don't want to encourage mutiny, but we do want to see solutions and results. We will be talking to everyone to see that President Yameen steps down. I hope that the International Community would be more robust in its actions and asks President Yameen to step down.

The President must now step down. And if he wants to contest a free and fair election in 2018, in my view, he must be in a position to contest. This can't happen if Yameen remains as President. We must have an interim arrangement.
China seems to support autocratic Governments and China has a number of projects in the Maldives. Once dictatorship is established and strengthened they start getting projects without a proper tendering process, without transparency and without democratic oversight

QFrom the time you assumed power in 1998, we have seen internal power struggles. You accused your Deputy President of instigating the coup against you. President Yameen is experiencing the same situation and his Vice President and Defence Minister are out.

Our political system is very feudal in its outlook. This is because we are very new to democracy. It is very feudal. What we are trying to do is to overcome that. One fundamental nature of feudal politics is taking revenge. We want to break that. In fact we did. When we took over power we did not arrest President Gayoom. We wanted to break our historical and very feudal circle of arresting and targeting previous leaders. There is a pattern of this in other South Asian countries as well. But you know in Maldives it has been a bit more spectacular. But we are trying to overcome that.

QYou have spoken about an Islamist threat and spoken of a strand of fundamentalist Islamism inherent within President Yameen's Government. How do you see this and what are your reasons for such conclusions?

You see, for the past few years a very narrow version of Islam has been propagated in the Maldives. This has created a breeding ground for Jihadist movements and recruiting networks. We are now left with a very unfortunate situation where we have 300- 400 Maldivians fighting with ISIS ( Islamic State) in Syria and Iraq. That doesn't happen without a very strong network at home. The Islamists have embedded themselves in sections of the Military, Police, Immigration, Customs, and also in Education. So they are running a state within the state in the Maldives.

QIs this happening with State sanction?

Well there is a very grey relationship that exists between the State and the Islamist Deep State. The Deep State has an understanding that they will maintain President Yameen in power. Now you earlier said that President Yameen has the support of the Military and the Police. No. He has the support of this Deep State. He has the support of the State within the State.

During the past 4 years we have had 23 unresolved murders. They haven't been unresolved. The Deep State identified their foes, who are free thinkers, ordinary bloggers and mainly young people. They ( the Deep State) identified their foes, they judged them, sentenced them and then they executed them. They were beheadings.

This is very very worrying. We have two main issues. One is land grab, the other is the state within the State. If we do not have free and fair elections by the end of this year it would leave room for these two issues to infest to such an extent that we will not be able to pull it back. I think this is very worrying for the Indian ocean. An unstable Maldives will lead to an unstable Indian Ocean.

QBut isn't this just fear mongering to garner support from your neighbours for your political ambitions?

There are academic papers and books written on this issue. We can hide you know and we can conceal the truth. But it will come and hit you. And when it does, it will hurt. When it spirals down to chaos it would become very difficult. As a Sri Lankan Journalist and I suppose the Sri Lankan people will understand this. This is not fear mongering. Intelligence departments, analysts, think tanks, journalists, diplomats and writers are very aware of this.

QIf you do take over, how do you propose to quell this threat?

There is no magic to it. It will take time, but there is no magic to it.

QAre you confident of victory in the event of an election?

Yes I am very confident. We will win, hands down.

QHave you spoken to President Yameen during this period? Has there been any conversation going on between you?

No there hasn't. He became a very different person once he took over. He left the fort of decency. And so there has been no conversation.