---
Now PM's Chief of Staff
The Prime Minister wanted me to come and work for him, so on his request I decided to change my career

Yoshitha served in the navy from 2006 to 2020 and holds a masters degree and PhD from the National Defense University of Ukraine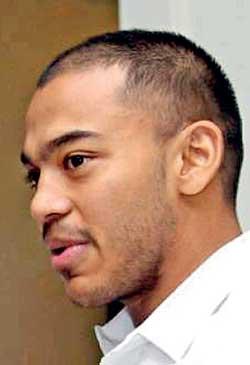 By Jamila Husain
Yoshitha Rajapaksa, who last week assumed duties as Prime Minister Mahinda Rajapaksa's Chief of Staff, yesterday said he had resigned from the Navy on Oct. 10 after his resignation was accepted by the Ministry of Defence and he had taken on his new position on the request of the Prime Minister.
Yoshitha told Daily Mirror that he had made an application to resign from the navy eight months ago after serving for 14 years and his application was accepted on Oct.10.
Further he said his appointment as Chief of Staff to Prime Minister Mahinda Rajapaksa was approved by Cabinet on Oct. 12 and he officially assumed duties on his new position from Oct.15.
"The Prime Minister wanted me to come and work for him, so on his request I decided to change my career," Yoshitha said.

"Even during the previous government, when I was politically victimised and suspended from the navy for four years, I worked for my father and built up my experience. So this position did not come to me overnight," he added.

Yoshitha served in the navy from 2006 to 2020 and holds a masters degree and PhD from the National Defense University of Ukraine.

His latest appointment came under criticism on social media after a tweet from the Chinese Embassy official account last week, congratulated him as Prime Minister Rajapaksa's new Chief of Staff.

Questions were also raised as to whether Yoshitha had resigned from the navy to take up his new appointment.
Questions were also raised as to whether Yoshitha had resigned from the navy to take up his new appointment