---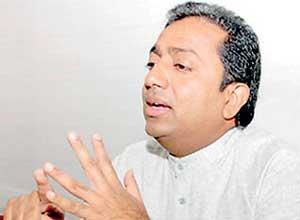 By Yohan Perera
United National Party (UNP) activists are expected to meet on Monday to discuss the reorganizing and re-structuring of the party with a view to making it a vibrant entity, General Secretary Akila Viraj Kariyawasam said yesterday.
"We request the people to accept both victory and defeat in good spirits and maintain peace. The UNP will be restructured and reorganized as it has been done after previous elections," he said. "We will bear responsibility for the huge defeat suffered by the UNP mainly because of internal and external challenges."
Mr. Kariyawasam said the SLPP secured a land-slide victory despite the services rendered by the UNP government on a short term and long term basis.
He said some political forces have been able to go beyond politics based on policies to achieve their goals.
Meanwhile, former MP Vajira Abeywardene who was talking to journalists after a meeting of party activists at Sirikotha said defeat was actually an avenue for victory therefore we will do our best to transform the UNP into a strong political entity.

When asked whether there was any possibility of inviting the Samagi Jana Balawegaya Leader Sajith Premadasa to take over Sirikotha, Mr. Abeywardene said there would be no such move. "SJB is a different party. Handing over Sirikotha to the SJB will be like handing over the UNP head quarters to the LSSP," he said.

Former MP Daya Gamage said the SJB leader has destroyed himself and the UNP. "He had even lost the 2.5 million votes he received at the presidential election. We will start from zero and rebuild the UNP," he said.
However, one of the defeated UNP candidates, Lional Epolwatte said there was nothing wrong in handing over Sirikotha to the SJB because when considering the results, that was what the people had wanted.
SJB is a different party. Handing over Sirikotha to the SJB will be like handing over the UNP head quarters to the LSSP