---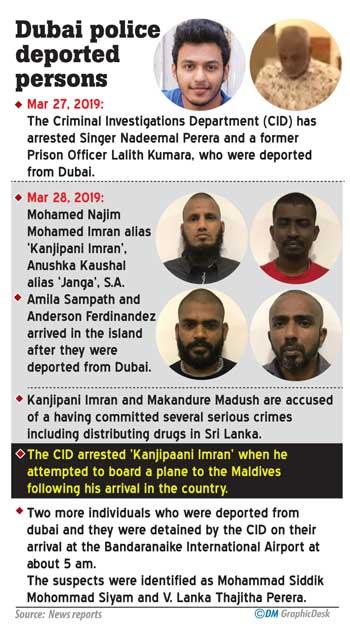 By Darshana Sanjeewa
Two more people, arrested along with notorious drug kingpin Makandure Madush in Dubai, were deported yesterday morning, Police Spokesman Ruwan Gunasekera said.
He said the suspects were detained by the CID on their arrival at the Bandaranaike International Airport for further questioning.

They arrived on SriLankan flight UL-226 from Dubai at 4.50 am.

The suspects identified as Mohammad Siddik Mohommad Siyam (48) a resident of Colombo 2 and V. Lanka Thajitha Perera (40) a resident of Kamburupitiya.

Thirty-one suspects including Makandure Madush, singer Amal Perera and his son Nadeemal, were arrested at a luxury hotel in Dubai on February 4.

Earlier, the Dubai authorities deported six people including singer Amal Perera's son Nadeemal and Mohamed Najim Mohamed Imran alias Kanjipani Imran.
The suspects were detained by CID on their arrival at the BIA