---
We don't know where this Pandemic came from. We don't know where it is heading to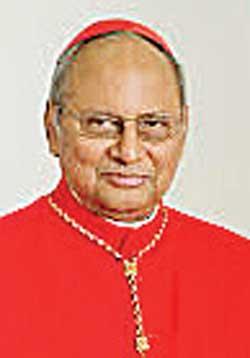 By Yohan Perera
Archbishop of Colombo Malcolm Cardinal Ranjith said yesterday there are organisations which produce germs, discover medical treatments for the pandemics caused by these germs they themselves produce and earn profits by selling these medicines.
"There are organisations with selfish motives and the COVID-19 pandemic is a result of such motives," Cardinal Ranjith said in his Sunday Sermon.

"We don't know where this Pandemic came from. We don't know where it is heading to. No one knows how the medicines which are claimed to be a cure for the pandemic would affect people," he said.

"There are mega international organisations which do not control economies but try to control people's ideologies and philosophies. They promote selfishness instead of concern for others. All resources have gone into the hands of few because of these few global organisations.

God wants us to love the world he created. However, we destroy it by acting in a selfish manner. We think of only amassing wealth, and we destroy the earth by clearing forests just to earn wealth. Majority of people in the world today are living with hunger as a result of this ," he added.

"Some say religion is like opium for the masses. Religion becomes opium only when it is used for wrong purposes. One has to follow the teachings of his religion no matter how difficult it may be. It is actually a heroic deed to follow a religion in the correct way, and we should always engage in such heroic deeds," he also said.
No one knows how the medicines which are claimed to be a cure for the pandemic would affect people