---
PM asks Sajith to present his winning formula
Sajith asked for presidential candidacy directly from the PM. Also he said Mr. Wickremesinghe could retain the party leadership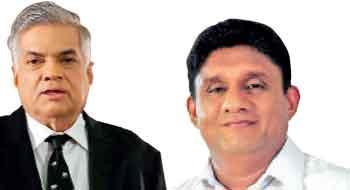 By Kelum Bandara
Prime Minister Ranil Wickremesinghe is reported to have asked Housing, Construction and Cultural Affairs Minister Sajith Premadasa to present his political formula for winning the presidential election.
He held talks with Mr. Premadasa for two hours on Tuesday night. According to sources close to the Prime Minister, the latter said the United National Party (UNP) could not win as a single party, and therefore it was important to get the support of all the like-minded parties including the Tamil National Alliance (TNA).

For that purpose, he told Mr. Premadasa to see whether it was possible to garner the support of all. It was also stressed that Mr. Premadasa should spell out his policy on demands by these parties.

Health Minister Dr. Rajitha Senaratne who participated in the meeting was assigned to coordinate negotiations between Mr. Premadasa and the alliance partners of the UNP.
Sources close to PM said UNP could not win as a single party
---
will continue discussion until 'right man' chosen
PM concerned on foolproof, unfailing strategy to draw the maximum possible Sinhala Buddhist votes in the South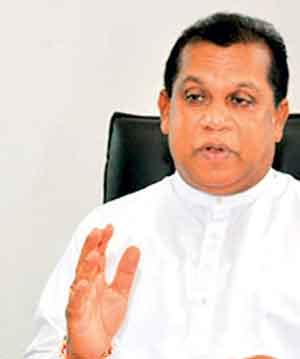 By Sandun A. Jayasekera
The Tuesday night meeting between UNP Leader Ranil Wickremesinghe and Deputy Leader Sajith Premadasa focused on which one of them could poll the most number of votes at the upcoming Presidential Election, Parliamentarian Ranjith Madduma Bandara said.
Minister Madduma Bandara while asserting that the talks continued in a cordial and friendly atmosphere, added that Premier Wickremesinghe was mainly concerned on a foolproof and unfailing strategy to draw the maximum possible Sinhala Buddhist votes in the South.

"We discussed the most trustworthy and pragmatic winning formula for the UNP at the presidential poll and also how to ensure victory at the forthcoming Elpitiya Pradeshiya Sabha election," Minister Madduma Bandara told Daily Mirror.

Asked when the next round of talks would be between the two UNP leaders, he said "We continue our discussion until we choose the right man as our Presidential candidate today, tomorrow and day after".

The UNP would contest the Presidential polls as United National Front (UNF), the political alliance that would unite other Sinhala, Tamil, Muslim and plantation sector political parties under one umbrella.

Minister Madduma Bandara expressed hopes that the UNF candidate would be made public in the next few days and admitted that delay in nominating the candidate would affect the campaign strategy and added a positive outcome would be obtained within a short period of time and several rounds of talks would be held in the next few days. The Prime Minister was in a positive mood and was of the opinion that all issues could be resolved through discussions in the next few days. There are no factions in the UNP as mentioned by certain media.
Minister and UNP Chairman Kabir Hashim, Ministers Malik Samarawickrema and Rajitha Senaratne participated in the discussion apart from Minister Madduma Bandara.