---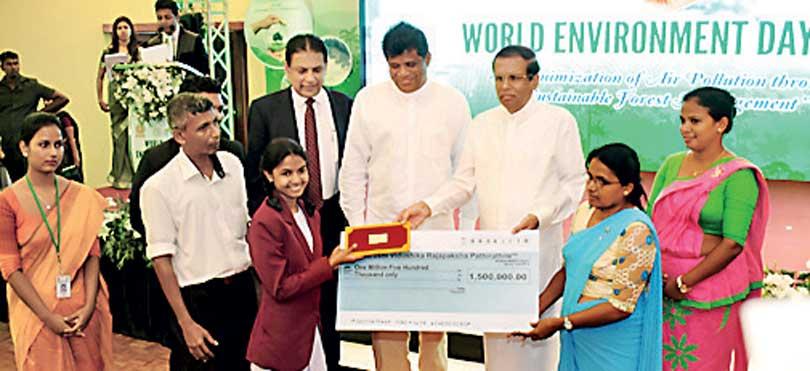 A school girl who won an Environment Day competition receives a financial gift from President Maithripala Sirisena
Pics by Kushan Pathiraja
by Sandun A. Jayasekera
Legal and administrative steps would be taken by the government shortly to prohibit the import of tree cutting machines, chain and mechanical saws and carpenter sheds popularly known as 'Wadu Maduwa' to protect environment and in particular the forest density of the country, President Maithripala Sirisena declared yesterday.

He added that people would have to import furniture as deforestation and tree cutting would be banned fully.

Delivering the keynote address at a ceremony held to mark the 'World Environment Day 2019' under the theme, Minimizing of Air Pollution Through Sustainable Forest Management' at the BMICH last morning, President Sirisena went on to say that if these measures were taken and implemented for ten years, the forest density of Sri Lanka could be increased to an environment friendly 32% from the current not so satisfactory 28%.

"A few months ago I went to a funeral house at Kurunegala. A poor looking old person approached me and asked, 'Sir you are the Environment Minister?' and I said 'yes'. He again said you work hard to protect environment and forests, don't you?. Yes, no one can cut trees without my permission, I said. Then he said cutting of hundreds of trees using chain saws in many parts of the country round the year was a common sight everywhere. If you want to stop cutting of trees in a haphazard manner you must do something for this. It was after this poor citizen drew my attention to the harm done to our forests using chain saws that I decided to register chain saws at Divisional Secretariats and obtain permits to use them to restrict the use of chain saws. As a further measure to put an end to this destruction I will also prohibit the import of chain saws, tree cutting machines and maintaining of carpenter shops," President Sirisena stressed. He said no official, even from the Environment Ministry, Forest Department or Central Environment Authority (CEA) educated him on the damage done to Sri Lanka's forests by chain saws until this person did it. When laws to register chain saws were made effective, 82000 chains saws had been registered island wide in three weeks.
The air quality index in New Delhi was 113 particle matters and in Lahore it was 114, in Washington DC it was 8 and in Colombo 32. We must try our best to bring Colombo to the level of Washington DC