---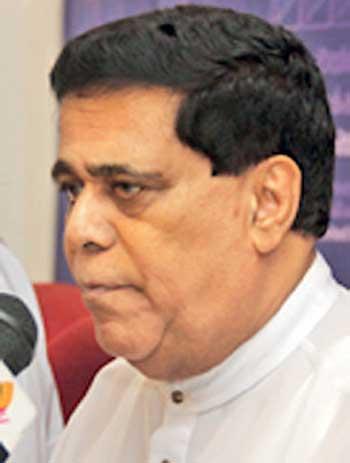 By Sandun A Jayasekera

The exposure of certain national security and intelligence information during the Parliamentary Select Committee inquiry on Wednesday (29) came under heavy criticism by the UPFA yesterday which termed it as a betrayal of the intelligence services of the country after the Millennium City fiasco in January 2002.
The UPFA was of the view that the members of the select committee which was appointed to probe into the allegations levelled in the No Faith Motion against controversial Minister Rishad Bathiudeen should not have asked questions from the defence officials on sensitive intelligence and national security issues and if and when asked, officials should not have answered.
Addressing the media at the SLFP head office yesterday, senior Deputy Vice President of the SLFP, former minister Nimal Siripala De Silva said the exposure of the highly sensitive information before the media during the select committee deliberations was extremely detrimental to the national security and intelligence service of the country.

"These questions should not have been asked by the members of the select committee in the first place. The official should have declined to answer if and when asked those questions as they were directly connected to the national security because they had the right to do so by law," Mr. De Silva said.
He recalled that the Millennium City disaster (exposure) took place in early 2002 after which the entire intelligence arm of the tri forces collapsed, top intelligence officers left the country and some of them were brutally murdered.

"The exposure on Wednesday in Parliament before the media is not second to the betrayal in 2002 under the current security situation in the country. I have never seen or heard inquiries being held and officials being questioned on matters related to national security and intelligence of a country like this anywhere in the world," Mr. De Silva charged.

UPFA General Secretary Mahinda Amaraweera said the select committee enacted a 'Palu Gei Walan Bindeemak' (smashing pots in an empty house) as there was no opposition representation in the committee.

"There are sensitive matters related to national security, the media or the law makers should not know. As such an official has all the right to refuse to respond if any crucial question was asked for the sake of the country and in the name of the security establishment he is serving. But here, this did not happen. The officer goes ahead with decoding even the most secretive code names used during the exchange of intelligence information. This is very bad," he added.

UPFA National organizer Duminda Dissanayaka said the UPFA would make a request to Speaker Karu Jayasuriya to prevent the select committee from behaving like this in future.