---
Says role of the opposition not restricted to Parliament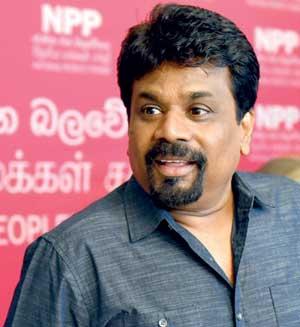 By Ajith Siriwardana
The National Peoples Power (NPP) said yesterday it was not satisfied with the results of the general election and reiterated that the functions of an opposition was not restricted to Parliament and its reduced representation in Parliament was not a hindrance to achieving its vision and goals.
NPP leader Anura Kumara Dissanayake told a news conference that the role of a strong opposition could be played outside Parliament and that the NPP would work closely with the people to win their rights.
"We can play a bigger role outside Parliament. If the issues faced by farmers are not resolved and issues of the unemployed are not resolved, we have a role to play with them. We have a role to play against environment devastation do not consider the role of the opposition in the traditional manner. We have an even more important role outside Parliament," he said.

Mr. Dissanayake said the government which claimed they could not fulfil its promises without a two-thirds majority could now start working as people have given the mandate they appealed for.

"The people have now given a mandate the Government a two-thirds majority to fulfil its promises made at the last presidential election. President Gotabaya Rajapaksa or Prime Minister Mahinda Rajapaksa now cannot make excuses ," he said. When asked about filling the national list slot, Mr. Dissanayake said this matter would be discussed with the constituent parties of the NPP.
We can play a bigger role outside Parliament. If the issues faced by farmers are not resolved and issues of the unemployed are not resolved, we have a role to play with them