---
Govt. should take responsibility
I handed over a secure and peaceful country
No one was warned while none of the ministers attended services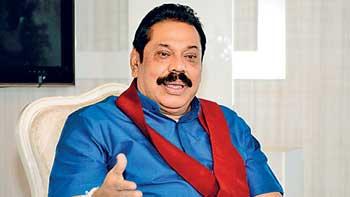 By Ajith Siriwardana andYohan Perera
Opposition Leader Mahinda Rajapaksa today slammed the government for weakening the intelligence services over the years.
In a statement in parliament on the Easter Sunday terror attacks, he said the government should take the responsibility for failing to prevent the attacks.

"The government can't shy away from the responsibility. It knew about the attacks, but did not warn anyone or any church and made sure that none of the ministers or MPs attended any of the services," Mr. Rajapaksa said. "From the moment this government came into power in January 2015, they have been persecuting the members of the armed forces and the intelligence services. How many of our armed forces personnel have they jailed over the past four years. How many times have they hauled former army commanders and Navy and Air Force commanders to the CID to be questioned," he asked.

Mr. Rajapaksa said the country should be able to eradicate terrorism on its own and by any chance if the government had repealed the PTA as requested by the international community, the situation might have been worse. He said they handed over a secure and peaceful country to the new President and had strengthened the intelligence services so that there would be no threats to national security.

"Our intelligence services worked closely with other intelligence services of neighbouring countries and other international intelligence services to ensure the security of the country. Whenever we got wind of a threat to national security, we acted on it. The Easter Sunday attacks would never have taken place under our government," Mr. Rajapaksa said. He said the present government was squarely responsible for the terrorist attacks that took place last Sunday.

"The police had issued early warnings of an impending attack. However what action did the government take with regard to those warnings? They never informed the Church leaders about those warnings and neither did they provide extra security to the possible targets. All that the leaders of the present government did was to ensure that they themselves were nowhere near a possible target.