---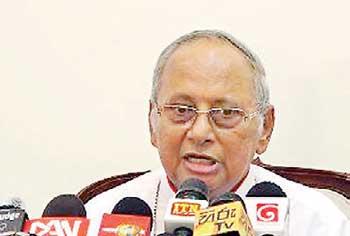 By Sheain Fernandopulle

I would have cancelled all the masses and services during Holy Week, if the Government had informed me of an imminent terror attack, Archbishop of Colombo Malcolm Cardinal Ranjith said yesterday.
Addressing the Media, he said the Government should have told him if they knew something was about to take place."We don't want anyone to be hurt by whatever we do," Cardinal said. "I have also told my Catholic population not to raise their hand against anyone because that's what we, Christians have to follow. We have just come out of Easter which means pardoning those who do wrong to us," Cardinal added. He said had stopped all festivals and possessions taking place in churches until the situation was brought back to normal.

"In light of the fact that the security situation in the country has not yet been brought back to normal I would kindly invite all the Catholic faithful and priests in charge of churches not to get back to normal church services which includes Mass on Sunday and weekly Masses until we are informed by the security forces that they have the situation under control and can guarantee the safety of church-goers," Cardinal Ranjith added. Meanwhile, the Archbishop said they could not fathom as to why this organization had targeted the Catholic community to commit such atrocities."I have been personally open and friendly towards the Muslim community as we share a common ancestor in Abraham," Cardinal Ranjith said. "However, the reason why they chose us, would emerge in the future," he added.

Members of the Muslim community have met me at our Inter-Religious Council meetings where they expressed their condolences and said they had no connection with what transpired on Easter Sunday.

He said even Muslim politicians had offered their condolences and said they had nothing to do with recent attacks.
"Hence, I am of the opinion that the Muslim community had absolutely nothing to do with these attacks," he added.