---
The solders were engaged in clearing work when the explosion occurred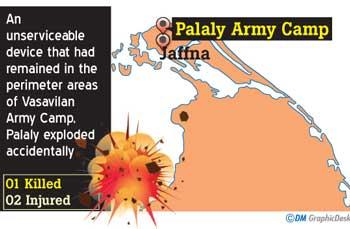 By Darshana Sanjeewa Balasuriya
Police and Sri Lanka Corps of Military Police are investigating into the explosion in the Palaly Army Camp which killed a soldier and injured two others, the Army said yesterday.
Lance Corporal Saneera Janith Kumara (25), a resident of Pallama was killed in the explosion. Two others were injured and were admitted to the Jaffna Hospital. The army said an unserviceable device that had remained in the perimeter areas of Vasavilan Army Camp, Palaly exploded accidentally.

The solders were engaged in clearing work when the explosion occurred, according to the army.

"It is believed that the explosive device had been left unattended underground in areas yet to be cleared at the time of the explosion", the
army said. They said although over 97% of humanitarian de-mining had been already completed in the affected grounds, some land around the army camps are yet to be cleared of explosives.