---
Likewise Excise sleuth were nabbed with narcotics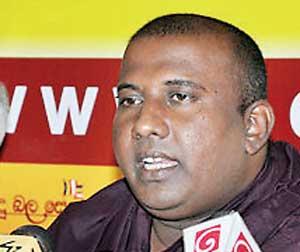 By Kurulu Koojana Kariyakarawana

Like how the Excise sleuths were found to have linked to drug smuggling the Excise Department has been backing the artificial toddy industry for a long time, incurring a loss of Rs.50 billion in tax revenue to the government every year, Nawa Sinhala Ravaya slammed yesterday.
General Secretary Nawa Sinhala Ravaya Magalkande Sudaththa Thera addressing a press briefing said it is the same way how the Excise has been aiding and abetting the artificial toddy industry to flourish in the country, had now found to have linked with the narcotic smuggling.

The Thera said the Wednesday's arrest of a group of persons including an Excise official from Puttalam with 200 grams of Crystal Methamphetamine or popularly known in Sri Lanka as 'Ice' in their possession, had raised grave concerns of the legitimacy of these authorities.

"We have in so many instances raised the issue that certain senior officials of the Department of Excise have directly involved in letting the artificial toddy industry to thrive sans any hindrance.

With this recent revelation of such sleuths caught red-handed with the narcotics so many other illegitimate activities of the department and its higher-ups surfaced including their deliberate attempts to turn a blind eye on the illicit trade of producing chemical toddy," Sudaththa Thera said.

The Thera said an Assistant Excise Commissioner had been once interdicted for not acting lawfully regarding the artificial toddy industry.
Attempts made to contact the Excise Spokesperson for comment was unsuccessful.