---

207 killed
450 injured
13 suspects arrested
9 explosions
schools closed today and tommorrow
kotahena - katuwapitiya - shangri-la - kingsbury - 8.45 am
cinnamon grand - 8.50 am
Batticaloa - 9.05 am
Dehiwala - 1.45 pm
dematagoda - 2.15 pm
By Kurulu Koojana Kariyakarawana and Darshana Sanjeewa
Sri Lanka was gripped by terror on Easter Sunday when a series of coordinated blasts suspected to be carried out by an alleged terrorist outfit was reported from several countrywide churches and leading tourist hotels in Colombo since yesterday morning, claiming 207 lives and over 450 casualties.
he tragedy which came in the form of a string of explosions in six different locations occurred between 8.45 a.m – 9.30 a.m. was followed by two more blasts that reported in the afternoon, triggering the government to declare indefinite Police curfew and to keep the security forces with police in full alert.

Police Spokesman SP Ruwan Gunasekara said the series of blasts kicked off with the one that was reported from the St. Anthony's Church in Kochchikade, Kotahena around 8.45 a.m. that was followed by explosions at Zion Church in Batticaloa and St Sebastian's Church in Katuwapitiya in Katana, where masses of unsuspecting Christian and Catholic devotees were attending to their Easter Sunday morning prayers in the respective churches.

No sooner the explosions went off in churches blasts were reported from three five star hotels of Shangri-La, Cinnamon Grand and the Kingsbury, where guests including many foreigners were sitting down for their breakfast.

The baffled Police and security forces personnel who were rushing from one incident to another were supported by Fire Brigade Rescue Units, emergency ambulance services as well as the residents and thronging on lookers of each scene to carry the casualties to the nearest main hospital.

All leading hospitals in the city and suburbs including National Hospital Colombo, Colombo North Teaching Hospital in Ragama, Negombo Hospital and Gampaha Hospital were started to flood with casualties and corpses that were received by full hospital staffs prepared with all emergency services.

Moments within the explosions footages of the scenes with wounded and remains of the killed victims were being circulated in almost all uncensored social media platforms that alarmed the country, whilst electronic media were giving minute to minute updates.

Within four hours of the initial string of six explosions the intensity was increased when two more blasts were reported, one at a reception hall in the close proximity to the National Zoological Gardens in Dehiwala around 1.30 p.m. killing two persons and the other inside a lodge at Mahawila Lane close to the Baseline Road Flyover in Dematagoda.

According to the Police Spokesman, the second explosion at Dematagoda had been reported when a group of Colombo Crime Division (CCD) officials who were probing on the blasts at the star hotels had gone to search a lodge on vital information about any possible suspects behind the organised attacks.


When the policemen had started to question the residents the blast had occurred killing three officers including a CCD Sergeant and two Constables on the spot with three other Policemen being wounded and hospitalised.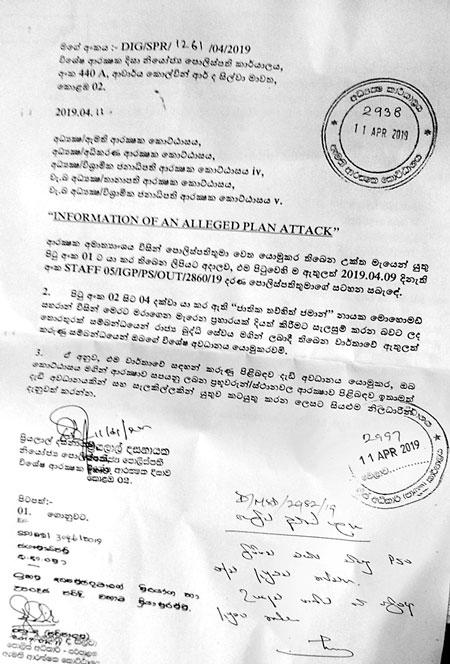 Latest reports indicated 66 dead bodies at the National Hospital Colombo with 260 casualties, 104 corpses, which is the highest at the Negombo Hospital with 100 casualties, 24 bodies at the Batticaloa Hospital with 51 injured victims, seven corpses at Colombo North Teaching Hospital in Ragama with 32 casualties, two bodies at Colombo South Teaching Hospital in Kalubowila with six casualties and two casualties at Gampaha Hospital.

The death toll at the time this edition went to press as officially announced by the Police stood at 207 with 450 odd casualties and out of this 32 deceased had been identified to be foreigners as confirmed by the Sri Lanka Tourism Authorities.

President Maithripala Sirisena who ordered police curfew initially from 6.00pm yesterday to 6.00am today was soon changed to indefinite police curfew with effect from yesterday afternoon.

Prime Minister Ranil Wickremesinghe who lead the National Defence Council in the absence of President Sirisena who was on a visit to Singapore, had requested the public not to pay attention to false information being spread by malicious elements and to be united in the difficult period.

Education Minister Akila Viraj Kariyawasam announced the closure of all schools countrywide today and tomorrow and all universities indefinitely. The schools were scheduled to reopen for their second term today following the national New Year holidays The authorities announced the overseas travelers reach the Bandaranaike International Airport (BIA) four hours prior to their departure and refrain from bringing in any visitors to the airport premises as part of security measure.

All leading places of religious importance including Sri Dalada Maligawa in Kandy had been closed indefinitely for the public.

All police leave in the festival period had been canceled with immediate effect by IGP Pujith Jayasundara and officers in all ranks with regular force had been asked to report to their stations and divisions. Police Special Task Force personnel including the Bomb Disposal Unit were deployed in all crucial locations to prevent any future explosions.

Military Spokesman Brigadier Sumith Atapattu said in addition to the police force, members of all three security forces including Army, Navy and Air Force had been kept in full alert to meet any unexpected difficult situation.


Meanwhile, Air Force Spokesman Group Captain Gihan Seneviratne said the security of the two international airports BIA and Matala Rajapaksa International Airport (MRIA) had been taken over by the SLAF and beefed up.

All social media platforms had been indefinitely blocked with immediate effect by the government to prevent any attempts of circulating any malicious content or rumors, Presidential Secretariat announced.

Additional reports by Hafeel Faris, Sanath Desmond, Ajith Siriwardena, Lahiru Pothmulla, Nabeela Hussain, Chaturanga Samarawickrama and Kalani Kumarasinghe