---
Parliamentary polls scheduled for June 20, 2020
Most of the political party leaders told me that the set date of election, June 20th is unacceptable for them

We informed the EC that political parties need a minimum of 5 to 7 weeks to carry out propaganda campaigns after the country was fully recovered from the COVID-19 pandemic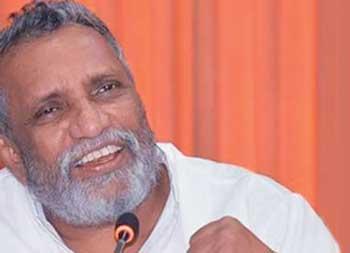 By Sandun A. Jayasekera
With the vehement protests by a large number of political parties on the decision taken by the Elections Commission (EC) to hold the Parliamentary polls on June 20th, the EC yesterday agreed to review the date, Chairman Mahinda Deshapriya said.
The EC met political party leaders at 10.00 a.m. last morning on their request to discuss the election date announced on Monday night.

"Most of the political party leaders told me that the set date of election, June 20th is unacceptable for them as they will have to start the propaganda campaign after preferential vote numbers were allocated to candidates. They questioned whether they would get enough time for the campaign and also if they would get enough space from the media," Mr. Deshapriya said.

The political party leaders were also concerned over the curfew still in force in the Western Province and in the districts of Kandy, Puttalam, Kegalle and Ampara.

Mr. Deshapriya said the EC would closely review the issues raised by poliical parties and take a decision accordingly.

Meanwhile, leader of the Samagi Jana Balavegaya (SJB), Sajith Premadasa after taking part in the discussion said the government's attempt to go for an election had to be thwarted at any cost.

"We informed the Elections Commission that political parties need a minimum of 5 to 7 weeks to carry out our propaganda campaigns after the country was fully recovered from the COVID-19 pandemic and an assurance from the health authorities that there is not a single patient in the country with the viral infection," Mr. Premadasa said.
He added that doctors must give a written assurance that the viral infection had been fully eradicated from the country before the election campaign was started.

Leader of the JVP, Anura Kumara Dissanayaka said the country remains in total uncertainty and as such the country was not ready for an election and preferential numbers for candidates scheduled to be issued on May 4 was a misjudgment.

Mr. Dissanayaka was hopeful that Mr. Deshapriya would consider the concerns of political party leaders positively and change the election date already announced and give a new date before May 4.

However, Secretary General of the EC, Saman Sri Ratnayaka said the EC would start election work on May 4 and added voters who expect to vote by post must send in their applications for postal voting on or before May 4. The EC had earlier set April 17 as the last day for applications for postal voting.