---
Also sends birthday wishes to President Rajapaksa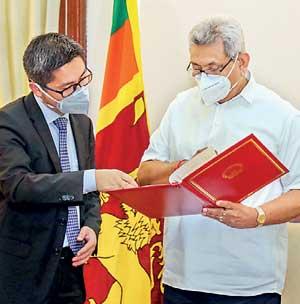 Chinese President Xi Jinping in a letter to President Gotabaya Rajapaksa has lauded the efforts taken by Sri Lanka to successfully fight the COVID-19 pandemic, the President's Media Division said.
The Acting Ambassador for China Hu Wei met with President Rajapaksa yesterday at the Presidential Secretariat.

He brought a letter from President Xi wishing President Rajapaksa for his upcoming birthday on
June 20.

The Chinese delegation also conveyed President Xi's deep appreciation of Sri Lanka's successful efforts to fight the COVID-19 pandemic.

The Chinese government has sent a consignment of medical supplies to help Sri Lanka's continuous fight with the virus. These supplies are already with the Health Ministry. The acting Ambassador handed over the list of supplies to President Rajapaksa.

President Rajapaksa thanked President Xi and the people and companies of China for their unstinted support during the past difficult weeks as Sri Lanka battled with the pandemic.