---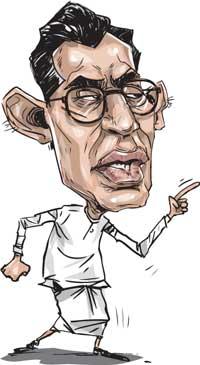 By Sandun A Jayasekara
Megapolis and Western Development Minister and JHU General Secretary Patali Champika Ranawaka said yesterday Industry and Commerce Minister Rishad Bathiudeen should step down from his post to facilitate investigations into charges made against him in the no confidence motion.
The Minister told a news conference that it should ensure that investigations were conducted properly on the ten counts put forward by the JO in its no confidence motion.

"These are criminal allegations that cannot be investigated by a Parliamentary Select Committee. They should be investigated by the Police along with the intelligence agencies and other law enforcement authorities on the alleged crimes, support to terrorism and misappropriation of state funds," he said.

He said it was questionable whether Mr. Bathiudeen could use his ministerial power to influence investigations.

"Therefore, it is important for him to step down to facilitate free and fair investigations. If he is found guilty, action has to be taken appropriately," he said. He said the law enforcement authorities should dispense with investigations as soon as possible and divulge the findings to the people.

Commenting on the no confidence motion against the government by the JVP, he said it should be taken up for debate as soon as possible.

It is the responsibility of the government and President Maithripala Sirisena not to keep the country in suspense on the outcome of the two no faith motions against the government and Minister Bathiudeen and fast track the no faith motion against the government, he added.

In response to a question by a journalist, Minister Ranawaka said the JHU will take the right decision at the right time on how to vote on the no faith motion against the government.
These are criminal allegations that cannot be investigated by a Parliamentary Select Committee