---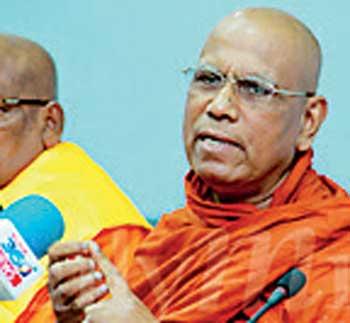 By Ajithlal Shanthaudaya and Jayantha Nanayakkara
Sri Lanka should withdraw from the Commonwealth and from the United Nations in protest over a speech made by British Premier Boris Johnson over reconciliation and accountability in Sri Lanka, Ven. Omalpe Sobitha Thera said.
In one of his speeches after being elected to the office, Prime Minister Johnson thanked the Tamil community in Britain for contributing to his election victory.

"We need to get Brexit done, Thank you Tamil community. I hope there will be reconciliation in Sri Lanka and accountability for what happened in the past and long term peace in Sri Lanka," he said.

Commenting on the speech, Ven. Sobitha Thera said according to Mr. Johnson the opportunity to mediate in Sri Lankan affairs would be made once the Brexit was completed.
"He ends the speech by thanking in Tamil. We are not sure if he was elected as PM of Britain or of Sri Lanka. We need to condemn this statement and withdraw from the Commonwealth," the Thera said.
We need to get Brexit done, Thank you Tamil community. I hope there will be reconciliation in Sri Lanka and accountability for what happened in the past and long term peace in Sri Lanka