---
Some detainees under quarantine attempt to escape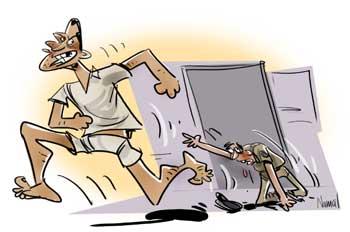 By Sujith Hewa Julige and J. A. L. JayasINGHE
When an attempt was made by a group of detainees kept under quarantine at the old Bogambara Prisons to attack the Prison guards and escape, the officers had to open fire in order to quell the tense situation and restore normalcy.
This incident had taken place around 10.30 pm on Monday and it turned the site of the prison to that of a battlefield.

The Prison officers who were injured in the melee were admitted to the Kandy Hospital as confirmed by the OIC of the Kandy Police Station Inspector Thusitha Halangoda.

The detainees who had attempted to flee from custody after attacking the Prison officers include certain drug offenders and others convicted for several crimes and who had been under quarantine.

When the unrest started the Prison officers had a very difficult task in controlling the prisoners who ran riot, to confine them back to their cells. With the news of the tense situation reaching the Kandy Police Station they deployed a team of police officers to beef up the security in the area.

Further investigations are continuing under the direction of the DIG of the Central Division and a team of senior police officers of the area.
The detainees who had attempted to flee include certain drug offenders and others convicted for several crimes and who had been under quarantine