---
Results by 10 p.m. on Aug. 6
Strict safety measures to be adopted on election day to make polling stations one of the safest places for all stakeholders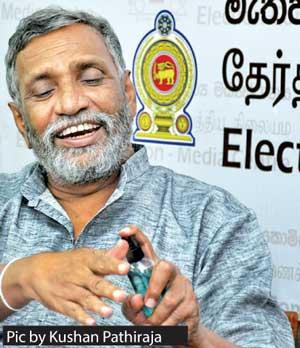 By Sandun A Jayasekera
Counting of votes including the postal votes of the August 5 general election will begin at 8.00 a.m. on August 6 with the results known by 10.00 p.m. on the same day, Election Commission (EC) Chairman Mahinda Deshapriya said yesterday.
He said a decision would be taken soon on any change in the usual voting time which is between 7.00 am and 4.00 pm.

Mr. Deshapriya told the media that the EC would make an extra effort to adhere to the health guidelines issued by the Director General of Health Services (DGHS) to ensure the safety of all stakeholders.

He said safety measures would include the wearing of face masks, physical distancing and hand hygiene and requested voters to bring their own ballpoint pen but if not it would be provided by the officials on duty. "I can say with confidence that the polling station will be one of the safest places with no chance of any COVID-19 infection. I hope none of the stakeholders will suffer from such an infection even though it is a day when many come out to the streets," Mr. Deshapriya said. Responding to the Daily Mirror, he said there was no methodology to remove candidates from the ballot paper if he or she withdraws from the election and admitted that the EC was helpless if a candidate from one party campaigns for another party. With reference to the statement made by Karuna Amman alias Vinayagamurthi Muralitharan, Mr. Deshapriya said it was a decision to be taken by the Supreme Court.
The EC will adhere to the health guidelines issued by the DGHS stakeholders
---
Postal voting on July 13,14,15,16 and 17
July 17 for health officers such as doctors, PHIs and Family Health Nurses on election duty while July 20 and 21 has been set aside for postal voting of those who were unable to vote on one of the any previous dates.